In Waterfall in 1955 hurling was out. And rock 'n' roll was in.
Written and directed by the late Ronan Phelan, Gangs of Waterfall is a classic short film from Cork.
It stars part-time Kansas City resident from Cork, Máirtín de Cógáin of The Fuchsia Band, as Weeshy Hennessy, leader of local gang, The Demons, and grandson of the greatest Waterfall hurler of all, Deadshot Dan.
Gangs of Waterfall won Best 'Made In Cork' Short of 2001, and is this week's Sunday Short, the irregular series of posts I do featuring Irish film shorts.
Once you get past the strange introduction Gangs of Waterfall starts, and you are treated to 15 minutes of a kind of Irish West Side Story with yet another version of Óró sé do Bheath' Abhaile: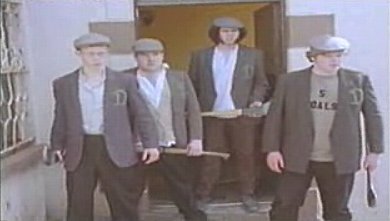 Note: (embedding of video temporarily removed due to problems with Internet Explorer)
More Irish Movie Short Films:
• Guy's Dog - Irish claymation by Rory Bresnihan
• Choppers - Irish pub story by Paul Farran
• Dublin Stories: Episode 4 - Peter by NOVARAfilms
• Fifty Percent Grey - Irish animation by Ruairí Robinson
• Give Up Yer Aul Sins by Brown Bag Productions