Painting: Parkgate Street, Dublin
Parkgate Street
9ins x 7ins
Mat Board
70 EUR / 108 USD - Sale: 35 EUR / 54 USD
Shipping 3.5 EUR / 5 USD - Sale: FREE
SOLD
The brand spanking new Criminal Courts building at the bottom of Infirmary Road by the main gate to the Phoenix Park now dominates the backdrop to Parkgate Street. I quite like the view from the far side of the river, though this view is from closer up. Parkgate is one of my favourite streets in town, marking as it does the first street - or the last depending on which direction you're going - in the city centre.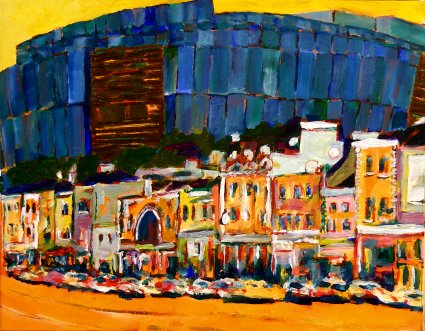 Parkgate Street is now SOLD.
See more paintings in this sale.
Parkgate Street is part of the End of Year 2009 online sale of paintings, which has launched with paintings at half-price and FREE shipping worldwide until Christmas Eve. Dozens of new paintings are being rolled out on my personal blog Bicyclistic in batches of 5, 6 and 2, 3. To see announcements first follow me on twitter.
Meanwhile see other paintings of Ireland and elsewhere available for sale.
---