For information about the 2009 Celtic Block Party - CLICK HERE.
For information about the 2009 Kansas City Celtic Festival - CLICK HERE
The following details relate to the 2008 festival.
Kansas City's annual Celtic Block Party at Governor Stumpy's on the edge of Brookside and Waldo, has grown up and is now a 2-Day Celtic Festival.
The Celtic Festival takes place on Saturday, May 24 and Sunday, May 25, 2008.
That's Memorial Day weekend.
Saturday the Festival runs from 6-9pm and has Dan Doran scheduled to perform. Expect Van Morrison covers.
Sunday is the main day and the festival entertainment is currently scheduled to run from 3pm-9pm:
3:00pm Dino O Dell (Kids entertainment until 4pm)
5:45pm Flannigan's Right Hook
7:15pm The Elders
Although it's not yet posted on Governor Stumpy's site, Kansas City's Celtic Pub Rockers Connacht Town say that they also are playing the Festival in south Kansas City. You can see yourself where there's a gap in the Sunday schedule of Irish music, so you work it out.
Tickets
$8 per day in advance, or $10 per day on the day of
There are also VIP Deck Tickets costing $100 for 4 seats
Here's a photo of the Stump that I took last year. The festival takes place in the large parking lot that slopes off to the right: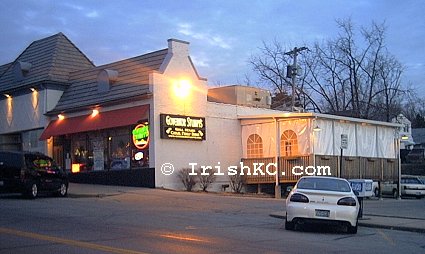 Location
321 East Gregory in Kansas City, Missouri - that the corner of Gregory and Oak.
Phone: 816-444-2252
I've posted this Irish Festival on the Kansas City Irish Events calendar, and you can expect me to update this page nearer the time.
Name
For the pernickety name police - think the unapologetic David Shaughnessy - I've called this event a Celtic Festival instead of a Celtic Block Party because that is what it calls itself on Gov Stumpy's website.
See Also:
• Kansas Festival Reunion
• Browne's Irish Street Festival
• Kearney Irish Festival