Pearse's Cottage. In Rosmuc, County Galway. Where Patrick Pearse spent his summers. Before that trip to the GPO.
This is a big painting. And I'm leaving town.
So if you fancied buying it you could make me an offer and see what happens. [Update: This painting is now SOLD]
Previously priced in the thousands I'm willing to let it go now for hundreds. It's ready to hang as is - the sides are 2 inches thick and painted white.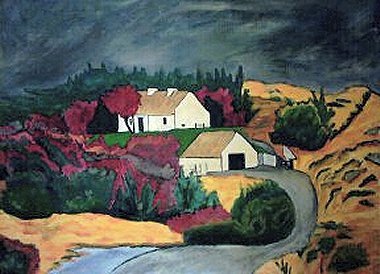 Because it's 53 inches wide by 38 inches high, I'm only thinking of selling it locally as I did with the last large painting recently sold, Blue Mountains, Green Grass.
[See the most current of my Paintings for Sale]
I painted this not because Pearse started that little episode at the Post Office in 1916, nor because of his love for the Irish language, but simply because I spent 2 summers in Rosmuc and this cottage was - and still is (I visited it again 2 years ago) ridiculous looking in its location. What I mean by that is that the cottage scene in actuality - if not here in my painting - looks like a postcard. Clearly Pearse was an idealist.
Possibly because of its size, Pearse's Cottage has always been very popular at outdoor shows I have taken it to.
Here's a good place to read about the history of Rosmuc and of Pearse's Cottage.
Oh, and you know the way I often claim some of my paintings look better in reality than they do on screen with my dodgy digital camerawork? Well, this is not one of those times. In this case I think Pearse's Cottage looks better here on screen than it does in reality behind me here in this room.
You might want to have a look at some of my other Irish paintings, though most of them are sold - check out the paintings for sale to see what's available to purchase.
Meanwhile I'm wondering more than you are how many of the current paintings I'm working on that I'll ever get finished.
Other Rosmuc Paintings:
• Rosmuc, An Aill Bhuí (SOLD)
• Rosmuc: Ag An Garáiste (SOLD)
• Rosmuc Arís
• Mini-Landscape, Pearse's Cottage (SOLD)