Rosmuc Arís
12ins x 12ins x 1.5ins
Canvas
165 EUR, Shipping: 11 EUR
SOLD
There are a lot of paintings of Connemara still in me, and quite a few of them from Rosmuc. This is my 5th painting originating from the Rosmuc peninsula and unlike the earlier 4, some of which were painted in tandem, this painting includes some knife work.
This painting continues around the sides which are 1.5″ wide, and can be seen here: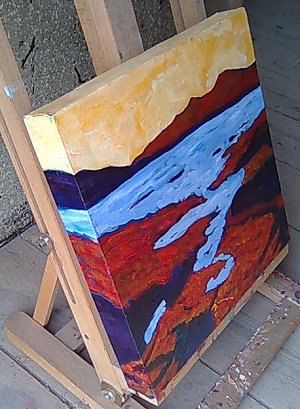 And here's the painting viewed straight on: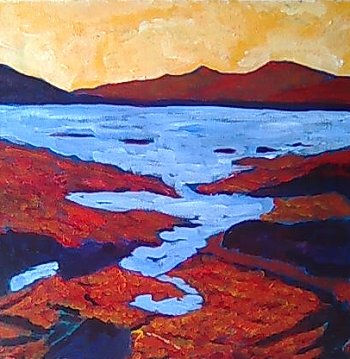 If you're known to me you could always pay me direct and save me the processing fees. Direct means personal cheque/check, account transfer, or that stuff called cash.
Rosmuc Arís is now SOLD.
This painting was first exhibited at the Intonations Art Exhibition in Dublin's 2009
Rathmines Festival.
Paintings For Sale
See other paintings available for sale - paintings are added to and withdrawn from this page regularly as they become available for sale and are sold.
There's also a page of paintings of Ireland and elsewhere most of which are sold.
Other Rosmuc Paintings:
• Rosmuc, An Aill Bhuí
• Rosmuc: Ag An Garáiste
• Pearse's Cottage
• Mini-Landscape, Pearse's Cottage