I always find it difficult to identify the first mosquito bite of the year in Kansas City.
During spring I will get several bites, not from mosquitos but my paranoia about them will increase as spring progresses.
Similarly every fruit fly and small insect that flickers around the house is treated like a V-1 bomb with myself and the dog going into major alert status.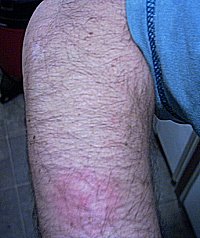 It's all daft of course, because whatever about the odd lone advance assassin, when the mosquitos really do arrive for the season, there is no doubt.
This bite was received 48 hours ago. It's 2 inches in diameter. Before the season is over I will receive bites that flare up to over 4 inches in diameter, being so big as to put pressure on nerves causing my arm, or leg, to tingle non-stop for up to 5 days.
It is what my life will be for the next almost 5 months.
The most of the supersized (god I love America) bites I've had at one time is 4, and the most of the ordinary nasty bites I've sported at the same time is about 50.
A bad night will see between 20 and 25 bites received, but even a 10-second dash to the bicycle on the porch will typically see me receive 3 or 4.
A couple of years ago I decided to stop using deterrent. Not because it doesn't work, but because it does. Mosquitos are going to bite me no matter what I do. Deterrent causes them to not bite where I put the deterrent.
Try as I might when I apply deterrent all over I invariably miss a piece of my ear or eyebrow, and then that is where I get the bites like the one in the photo. Or that's when I get bitten on the ends of my toes, or the soles of my feet.
Even a successful smothering of my body in deterrent will just cause bites through clothing, and anyway the deterrent typically gets rubbed off elbows and knees causing bites to then sprout there.
And yes, I will get bitten exactly where you really, really don't want to get bitten. Goodness gracious.
So in a pact with the mozzies I don't use deterrent and they in return only bite me on the outer parts of my limbs excluding the joints. Any transgression causes all out war, and, to be honest, madness.
Still, it is rather uncomfortable, so last year in a further act of martyrdom I decided to stop using all after-creams and ointments. No calamine lotion or cheap knock-offs for me. I would teach my body to live with the itch and learn to not let it bother me.
Last year was very itchy.
Please don't tell me what works for you. I have eaten whole bulbs of garlic, whole boxes of matches, and bathed in Skin So Soft while making friends with bats. I don't care what works for you. I don't like you. And I'm leaving this country.
More in Mosquito Watch:
• #2 Ugly Start
• #3 Bites & Kills
• #4 Escalation
• #5 Neighborhood Chat
See Stuff Just As Self-Indulgent:
• Do You Have Snow in Ireland, Real Snow?
• Unseasonably Hot, I Mean Cold, in the Midwest
• Weird Weather of a Weekend
• Icicles
• It's Bleedin' Freezin'
• Dear Ireland, Kansas City is Hot
• I Built an Igloo