Tullamore, one of the biggest trad bands in the midwest, are leaving their Kansas City base this week as they embark on a major tour of Ireland.
Tomorrow, June 14 sees Tullamore leave KC, and on Friday June 15, 2007 their first day of this 16-day tour, they play the first of 10 concerts.
Going with them will be the songs from their brand new CD, the exquisitely produced Wild and Wicked Youth.
While several of the band that operate in the Celtic Rock genre have been going on tours of Ireland over the last few years, bands like Black 47, The Young Dubliners and Kansas City's own The Elders, this trip by Tullamore is really quite significant.
It's much longer for starters - the Celtic Band tours run by Hammond Tours that are so popular, are typically a week or so long. And 10 gigs is a lot of gigs that also sees Tullamore cover so much more of the country. Perhaps most significant of all is the venues.
Tullamore are playing arts centres and theatres around Ireland:
June 15 Ards Arts Centre, Newtownards, Down
June 16 Derry Playhouse, Derry
June 20 St John's Theatre & Arts Centre, Listowel, Kerry
June 21 Friar's Gate Theatre, Kilmallock, Limerick
June 22 Village Arts Centre, Kilworth, Cork
June 23 Wexford Arts Centre, Wexford
June 25 Moat Theatre, Naas, Kildare
June 28 Roscommon Arts Centre, Roscommon
June 29 Ardhowen Theatre, Enniskillen, Fermanagh
June 30 Ramor Theatre Virginia, Cavan
Here's a map to show you how extensive a tour of the island of Ireland the Tullamore trio (Mark Clavey, Mary Hanover, and Rachel Gaither) are taking. Gig nights are numbered in white: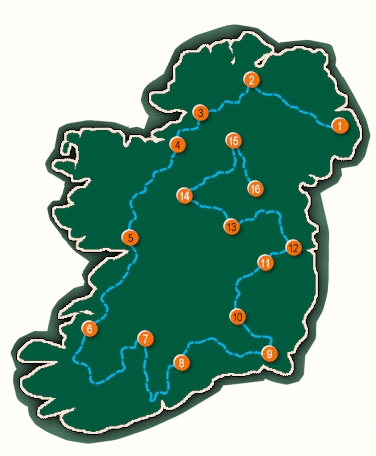 However the map is much more fun if you view it on Tullamore's website where when you mouse over each day of the trip you get a detailed breakdown of that day's travels.
Many days are very ambitious indeed such as the day in Naas travelling from Kilkenny that morning via Tullamore (the town not the band) in Offaly, and squeezing in trips to Dunmore Cave, the Rock of Dunamase, Tullamore Dew Heritage Centre, St Brigid's Cathedral & round tower in Kildare town, and the Irish National Stud - and all before a gig at 8pm!
Tullamore is an Anglicization of the Gaelic for 'Big Hill' - Tulach being 'hill', and Mór being 'big. It gives its name to the aforementioned town in Offaly in the midlands of Ireland, and another small one in Kerry.
The Whiskey Tullamore Dew, is named after the Offaly town.
UPDATE: Tullamore's Irish tour gets some coverage in the Fermanagh Herald - and even more in The Kingdom
Irish KC wishes Tullamore great luck and safe travels with its impressive itinerary
See Also:
• Wild and Wicked Youth by Tullamore
• Ireland & USA Little Differences #22: Hosting Tourists
• You Travel By Train In Ireland, Don't You?