A week ago I had to go on a tea run. I knew this because the Charge of the Light Brigade was passing through my brain.
It being a lovely early summer's day I opted for the scenic route, which is a 14 mile round trip, 2 miles more than the most direct suburban route.
Woodpeckers, lots of chipmunks, dozens of rabbits, a couple of dead snakes, some hawks hovering, and so on, past the spots where I have seen deer and woodchucks.
The highlight of animal life spotted on the tea trip was a heron, with a large turtle - shell about 12 inches in diameter - right beside him. They were on a branch sticking out of a creek.
But that was too far away for my camera, so here instead is a picture I took of a dragonfly: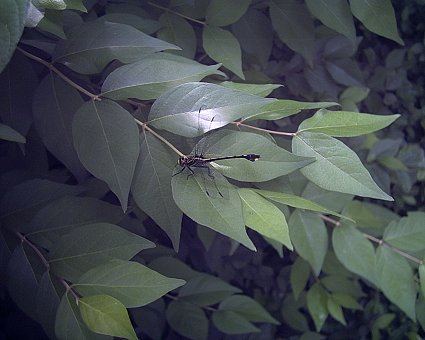 Of all the above animals only herons do you really see in Ireland. Oh okay, and rabbits, but not in their thousands on the streets of Dublin like in KC.
And deer I suppose, but not just so casually wandering around loose. Except of course in the Phoenix Park where they wander around in their hundreds and too loose.
And technically while there may well be some hawks, they are all stay in the six counties and they're protestant birds anyway, so they don't count.
More Animal Awesomeness:
• Things I'll Miss About Kansas City #2
• First Mosquite Bite of The Season
• Monarch Butterfly Photos