Here's a couple of photos from my early morning walks in Kansas City.
In a racially divided city I live in a white neighbourhood.
The first photo depicts two retail businesses whose being next door to each other has always tickled me.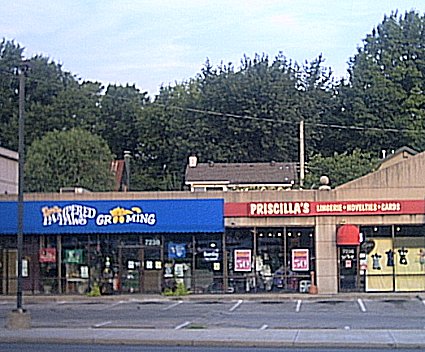 If you can't make them out, and let's pretend you don't know, that's Pampered Paws Grooming on the left. They do exactly what they say on the tin, and have been "Pampering Pets in Waldo Since 1989″ and I'd link to their website only it has automatic sound files from 1989.
And on the right in the red is Priscilla's, who list lingerie, novelties, and cards as their business, but I suspect they do more than what they say on the tin.
For some reason their juxtapostion has always struck me as indicative of too many people having too much money. And I speak as a man who likes his pets groomed and his lingerie novel. With cards.
And you might well disagree with me about people having too much money, but directly across the road reaching into the sky is this testament to where we're at: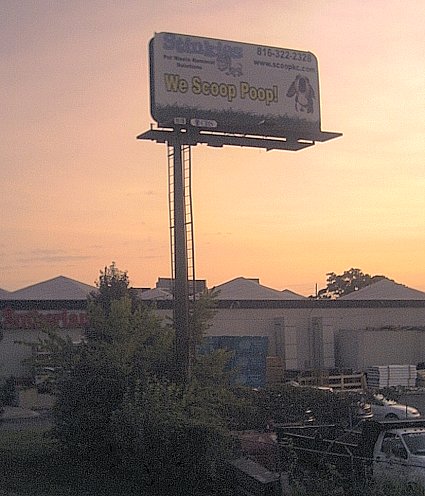 Stinkies: We Scoop Poop They do, but watch out for sound effects of dogs panting and being shot. I think.
Yes, I'll take photographs of such things in Ireland when I get there.
See Also:
• Voted #1 Best Place To Worship
• Kennedy's Bar of 75th St Reopening
• Dublin Legend in Kansas City