As everybody should know, the main thing in KC this weekend is the 2nd Annual KC Fringe Festival.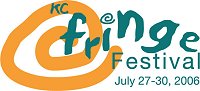 There is a ton of stuff on, in a variety of locations scattered around town. Of particular Irish interest is the Irish themed play by Michael Walsh, and the Irish Music shows presented by the MVFS. You have multiple opportunities to catch both.
Tickets for all events at the festival are $5 or $20 for five, but you need to have a festival button (cost $5) also. Therefore the more events you go to, the cheaper each event gets. If you go to everything, maybe you even make on the deal.
Tickets can be bought online or at performances with cash and cheques. There's also a central ticket place in the Crown Center Atrium. See the Fringe festival website for details
Tony has been detailing some of the highlights as suggested by Present Magazine
See also:
• MVFS presents Irish Music at the KC Fringe Festival
• Michael Walsh's Irish-themed Play at the KC Fringe Festival
• Eileen Ivers in Classical Pops in Columbia, Missouri