Kansas City is in the news today. Even though there had been 26 homicides in KC this year up to this afternoon, it's now that killings in KC make the news.
Location, location, location.
My plan for today was to go to Ward Parkway Center in the afternoon.
A five-minute cycle away it's the nearest center of its type to where I live. A few days ago however this, something that only happens in your cycling nightmares, happened to the bicycle: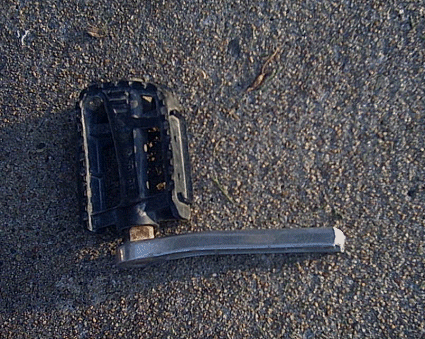 The BBC eventually corrected their heading on the Ward Parkway story to refer to a "Kansas City Shooting" rather than a "Kansas Shooting". Then again given that the western edge of the car park sides onto State Line road, they were only out by a few feet.
Without the bicycle I thought it'd be a nice walk to Ward Parkway Center - it's a walk I usually only ever make after an ice storm renders the roads too dangerous for the bike. But time slipped and then there wasn't quite enough of it for the walk.
Instead so, as the temperature rose above 30 degrees Centigrade, I walked to a few blocks east of Ward Parkway and was playing catch-and-kick with a Gaelic football when the shootings occurred.
In the perfect blue sky, between the ball and the blinding sun, were the helicopters. You always know something bad is happening when there's more than one helicopter above you.
Actually, scratch that, something bad has usually happened when there is just the one chopper, however multiple choppers mean whatever has happened, we're all going to know about.
My broken pedal coming days after a phantom puncture, and both causing me to miss live music, made it a bad week for the bicycle. But I guess I could have had it worse.
More on Kansas City and Killing:
• Driving By and Killing
• Co-existence: Kansas City & the Lebanon
• Nobody gets upset with the Irish on St. Patrick's Day
• Guns, Americans, and the English
• How Do You Find America?
• 25 Things About Kansas City