Floyd Landis is on Talk Of The Nation on NPR right now, pleading his innocence regarding winning the 2006 Tour De France and then being reported as testing positive for doping.
———————
UPDATE: Truth But Verify stated there is a lot wrong in this post but when asked to be specific came out with a list of irrelevant arguments against points never expressed.
I find it humorous that a site dedicated to truth, is so defensive about Floyd Landis, that assumptions are made about anybody who expresses an opinion of Landis being guilty.
For example TBV says "He [Landis] does not talk about "French Conspiracy", he complains about incompetence at a particular laboratory that happens to be in France. That some jingoistic yahoos turn that into the great conspiracy is beyond his control." This is of course very true - but in the post below I never accused Landis of expressing that opinion or of being responsible for the people who did. Instead I talked about the "many people - in wanting to believe Floyd", so in the world where you don't like to see somebody disbelieve Landis you defend him even on points where he hasn't been attacked.
The rest of the list that was supposedly wrong on Irish KC was refuted with pure opinion, and more arguments against points that weren't made in the first place.
Rather than Truth But Verify it might be better called Belief But Assume (and here's a load of resources so we must be objective)
TBV comments are here [/UPDATE]
————————————
And before we begin, let's calm down with a painting I did of Ireland's stage race, The Rás (An Rás Tailteann). It was won by Stephen Roche eight years before that year he won the Tour, the Giro, and the World Championship: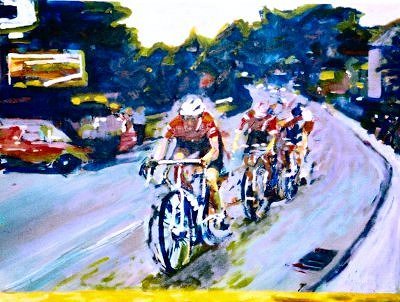 I spoke about Landis last year. Right now he is on a book tour ("Positively False: The Real Story of How I Won the Tour de France") promoting his innocence and criticising the procedures in place by the anti-doping agencies for establishing that innocence - assuming he is found to be.
I think his case is with the Court of Arbitration for Sport His case is with the American Arbitration Association and their verdict due possibly in a couple of days, but there is no strict timetable.
Landis doesn't make a good case, not in how he talks. He whinges a lot about the anti-doping agencies in general, and never accepts that any cyclist is responsible for doping or creating the suspicion in the sport despite the level of doping in cycling that has been established without argument.
He's had a whole year to get his defence right yet I don't hear him talking the science much - which is very odd considering it is the science that will exonerate him - if anything does. His tone and approach reminds me very much - still - of Irish swimming dope star Michelle Smyth de Bruin.
Last year I noticed how many people - in wanting to believe Floyd - chose to castigate the anti-doping agency simply because they are French, and therefore they were obviously anti-American. Suffice to say I didn't agree with that.
From how he cycled in that Tour, to how he has spoken about the doping allegations against him since, and from how he spoke about drugs in cycling before he even started last year's Tour - I don't believe him.
After an entire program I know next to nothing about the procedures employed by the Anti-Doping Agency that Landis criticises so much, and practically nothing about his specific case. A whole program? His case on the radio was 99% emotional and 1% scientific.
Oh, that was me speaking as a cyclist, an Irish cyclist, in KC.
[UPDATE: Almost 3 years after this radio programme and blogpost, in May 2010, Floyd Landis admitted to doping from June 2002 through his victory in the 2006 Tour de France.
In November 2011 Landis was convicted by a French court for his role in hacking into the computers of the anti-doping lab that caught him cheating at the 2006 Tour de France.
In August 2012, Landis admitted to fraud committed when he raised his legal defence fund back when he was denying doping in 2007, and was ordered to pay $487,000 in restitution. He reached a deal on sentencing for the fraud charges
All of which means, among other things, that the website Belief But Assume is, and always was, an utter joke.
And for good measure Floyd Landis' doping admissions in 2010 played their role in ultimately revealing in 2012 that Lance Armstrong is the greatest cheat and hypocrite that sport has ever known.]
See Also:
• My Cycle Across America
• County Kildare as a Training Ground for Cycling Across America
• Book: Cycling Across America (by me)