Elevator, Sunday is another large painting I'm offering for sale before leaving Kansas City.
It's 40 by 30 inches - the same size as the recently sold Blue Mountains, Green Grass, and similarly it has painted sides (1 and a half inches) and is ready to hang.
There are grain elevators in Ireland - I lived close to one in Phibsboro, and there's certainly a few in the docks around Dublin - but obviously from the yellow sky and the orange grass, this is clearly America.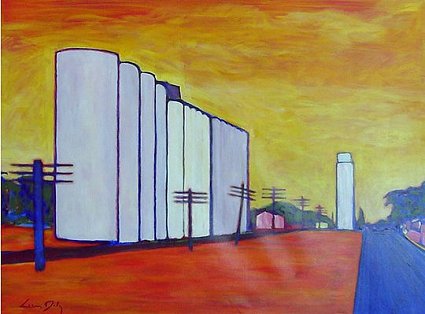 I like elevators a lot, the concrete ones more than the older ones; the Cathedrals of the Plains as somebody once called them. I have a few stories about them but they all come from my cycle trip across America, and from the bits of it I've yet to publish, so I'll not tell them here now.
I'm not putting this into the online shop with the other paintings (update: shop is temporarily closed anyway for now) - because the set up for shipping costs there is too cheap and I haven't got the time to sort out the hassle of shipping this individually anywhere.
So it's available locally only and for the bargain price of - remember this is 40×30 inches, not small - $499. Despite being the same size, Blue Mountains, Green Grass was considerably more expensive due to much more work being involved.
And if Elevator, Sunday doesn't sell then it goes with all my stuff getting shipped home to Ireland with me - and should you want to buy it then and you live in America, well shipping from Ireland is a lot more expensive than shipping within the US.
If you're interested in buying this, Contact Me by this form or by email to eolai[at]irishkc[dot]com
Meanwhile, as ever, check out what Irish paintings are currently left in the bargain bin, and some non-Irish paintings for that matter, and then drool over the paintings supposedly in development and coming your way this decade.