Eddie Delahunt
Eddie Delahunt is a soulful Irish singer-songwriter and musician in the folk tradition.
From Dublin, and also a former resident of Dingle in Kerry, Delahunt is based in Kansas City, Missouri and regularly plays Irish Music in the KC area.
Read about A Night of Irish Music with Eddie Delahunt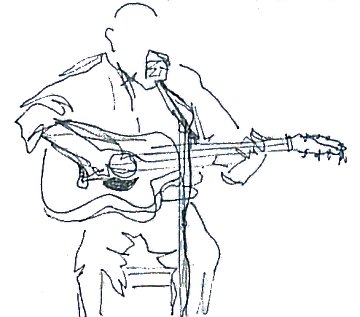 If you live in Kansas City do not take Delahunt for granted. Nothing lasts for ever, and right now you are lucky to have the chance every week to see the best Irish music in town played by Eddie and his friends (currently Gabriel Reyes on bodhrán and Brett Gibson on piano accordion).
You can see Eddie play in one of his weekly gigs:
• Wednesdays at O'Dowd's Little Dublin, The Plaza, KC, MO, 8pm
• Fridays at Mike Kelly's Westsider, Westport, KC, MO, 6pm
• Sundays at O'Dowd's Little Dublin, The Plaza, KC, MO, 8pm
In 2008 Eddie began a series of regular gigs at O'Malley's Irish pub in Weston on the first weekend of every month.
During the summer months Eddie usually plays some gigs in the Clocktower Series at the market in downtown Overland Park.
Check the Irish Events Calendar for other gigs as they are scheduled.
Read about Eddie Delahunt's Cafe &
Read about the 1st Birthday of Cafe & (includes photos)
If you buy only one Irish CD in your time in Kansas City, between pubs and festivals, the stupendous Original Sing by Eddie Delahunt is the album you need. Reminiscent of Christy Moore at the peak of his form, all songs are original Delahunt compositions and many are destined for the canon of Irish folk music.
Buy Eddie's Music
Why wait for an Irish Festival? Purchase Eddie Delahunt's Original Sing online now from one of these resources:
• Music is Here
• Village Records
• CD Baby
Oozes quality.
• Eddie Delahunt in Present Magazine
• Delahunt's Original Sing reviewed by Sing Out! Folk Journal
• Eddie Delahunt's Birthday
• Irish Music in the MidWest
• Eddie Delahunt's Irish Music in Stereo
• Irish Music at O'Dowd's Little Dublin
• Read the latest news on Eddie Delahunt
• Visit Eddie's Official Website
See a complete list of Irish entertainers in the Kansas City area
---