Ulster 3-15 (24) Connacht 4-9 (21)
A 3-point victory for the Ulster team then, but the first Celtic Ranch Cup wasn't about the final score.
In only its first year the Kansas City Gaelic Athletic Club has achieved so much and it culminated in yesterday's first ever Gaelic Football match in KC.
Congratulations to all involved.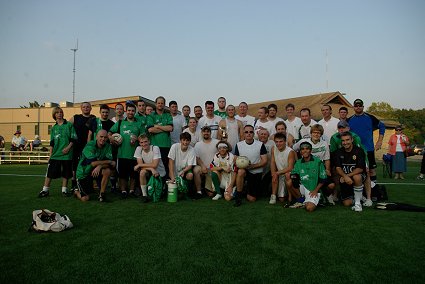 Photo by Pete Maher of the Midwest Irish Focus - (click to enlarge)
Read George Vial's report in the KC GAC forum
You will note though, that I told you Ulster was going to win.
KCGAC Online:
Website
Blog
Forum
FaceBook
MySpace
More on this Irish Sport and Kansas City:
• National Attention for KC Gaelic Football
• Hurling Practice in Kansas City
• Kansas City Gaelic Football: Report v Little Rock & St Louis
• Championship Sundays Like this
• Is Kansas City more Irish than the Cayman Islands?
• Irish Counties in Kansas City