Beehive Hut
12″ x 16″
Available as print only. Prices start from $25.47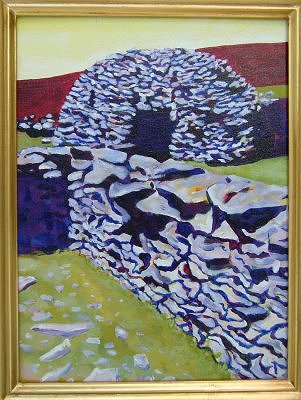 Here's a painting of a Beehive Hut - Clochán - on the Dingle peninsula in County Kerry that I painted.
The original painting is now sold.
And if you're touring around the peninsula these are not intended as public toilets.
See more of my paintings of Ireland.
What are those Beehive Huts in the middle of Kansas like the ones in Ireland?
Are there monks in there, praying, writing books, and doing monk stuff?
Or are they for something else?
See Also:
• A Beehive Hut by an Irishman in Kansas City
• Is Kansas Flatter Than a Pancake?
• Base of the Cross of Moone