Free beer and hot weather. An intoxicating combination.
And it's probably best to go to bed the night before such a day.
I did my reading, spotting as I read them four words I completely mispronounced. As I've long learned that Joyce messes around with language so much, joining words together, using words other than English words, and just making up words, I knew that I could continue reading without apology or correction and remain undetected.
Except there was one woman who was following my reading in her own copy of the book. So she knew I was wrong on those words - unremarkable words as it happens. Anyway to prevent her from telling anybody of my failings, I killed her.
Part of my reading time overlapped with The Lucky Charms performing outside: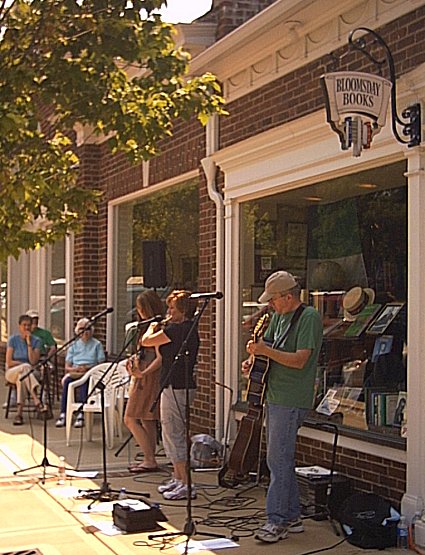 I was humming along to Zombie while simultaneously reading Ulysses aloud, a trick I didn't even know I could do.
Channel 9 was there for the first reading at 9am and then as the heat kicked in Alaina, Cricket and Gerry of The Lucky Charms kicked off the live music shortly after 11am. For the rest of the day - and it was a long day - it was very clear from conversations that the Charms had made quite an impression and garnered new fans among the hard core Bloomsday faithful.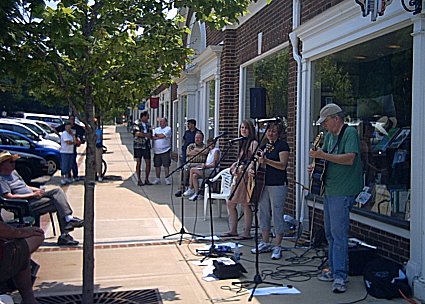 Inside the reading of the book continued, sometimes with just a handful of people close up listening, and other times with 20 listeners. Here's a picture of last year's Molly Bloom being not so potty-mouthed this year:

I had several people introduce themselves to me as Irish KC readers. A kind of delurking I suppose. Nothwithstanding the scowl on my face, they said nice things. Like, can I save you standing up in the heat and walking to the keg, by getting you a stout sir?
Being an agreeable sort of chap I always said yes. Yes I said yes I did yes. And then Eddie Delahunt, Gabe Reyes, and Brett Gibson, took up seats and blended into the heat and the crowds with a session-like feel of a set:

As ever, at parties hosted by Tom and Nancy, Eddie kicked off with Tippin' it up to Nancy, where I think Eddie calls the host a murder-plotting embittered old woman from Wexford. If you look carefully you can clearly make out the words:


There was a nice long gap between Eddie's two sets, long enough for a second visit to the keg. I may not be accurate, but it's rude to count.
And then it was time to cycle the few miles home to see if the dog was still wearing the bowler hat. I had hoped to squeeze in a couple of hours at Browne's big festival but I lost my ride and to be honest my dog can't stand Irish music anyway.
You know you're home when you step in your door and fall to an immediate heap on the carpet. Luckily the pads of the dog's paws reminded me why I had taken the side trip home and a brisk walk in the 90 degree heat nicely rendered the dog unconscious for the rest of the day and had me all gasping for a drink. Stout as it happens.
So back for more. For more listening to readers, and for more chats in the sun where we tell ourselves it isn't hot. And finally 12 hours after the reading started they end with just one person having made it all the way through. And then the Brookside Players are amongst us.
Photographs from behind don't capture laughter very well, but trust me there was a lot of laughing in the Sylvia Stoner production of Night-town in Ulysses.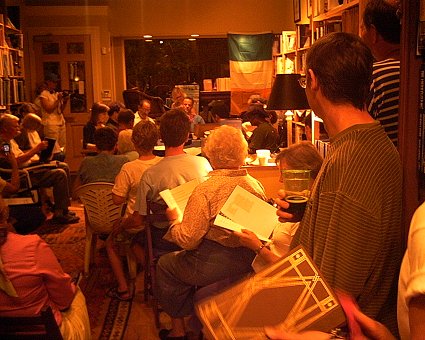 Some old favourites were there, along with a new Leopold Bloom - though the Bloom of the previous years, Dan O'Meara was remembered fondly throughout.
Somewhere in the small hours the long day ended. As ever at the end, the final few came out with the most fantastic ideas for the next Bloomsday in Kansas City.
The final few this year were the hosts Tom & Nancy Shawver, Doug Frost, Nathan Granner, Steve Paul, and purely for reporting purposes, your Irish KC author. And I can honestly tell you that Bloomsday 2008 sounds like it's going to be a fabulous day.
Just like 2007.
See Also:
• What Bloomsday Books Means to Tom & Nancy Shawver
• A Party at Cafe &: 1st Anniversary
• 'Craic' or 'Crack': Is it Irish?