This year, not having a home, I won't be getting a Christmas Tree.
In the last couple of years, despite not having a car in a city designed for motor vehicles, I've enjoyed picking up my Christmas Tree.
I'm in the late camp when it comes to decorating, not because I'm a fan of LastMinute.Com, but because I love the peace of arranging a tree on Christmas Eve.
2 years ago as usual the tree was decorated with mostly homemade ornaments, along with a few personally meaningful ones like my name in glitter, and a keyring or two, when the day after St Stephen's Day something odd happened.
Underneath the greatest pot-holder and among all the oven-baked sculpey, air-dryed model magic, ice-pop sticks, painted baubels, painted CDs, pipecleaners, crackers, tinsel, lights, a friend's wedding bell souvenir, a dartboard, a bicycle helmet, and a very cool handmade card, were three fake birds. Robins all the way from Dublin.
One moment the dog suddenly took an interest in the Tree. So I explained that the robins weren't real.
But the dog explained to me that one of the fake birds had in fact come alive: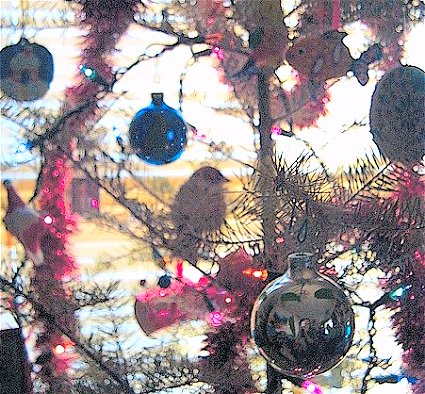 So, I pointed out the convenience of my Christmas decorations,which did persuade the bird to leave the Tree: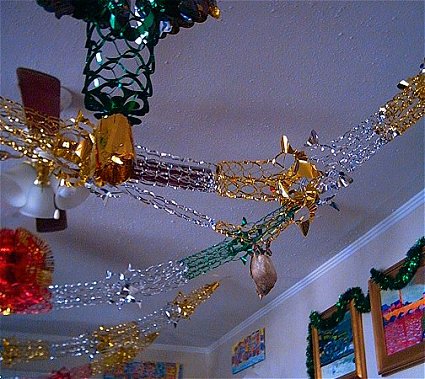 Cheap decorations from the streets of Dublin not being as sturdy a perch as telephone wires the bird then visited an Irish Street: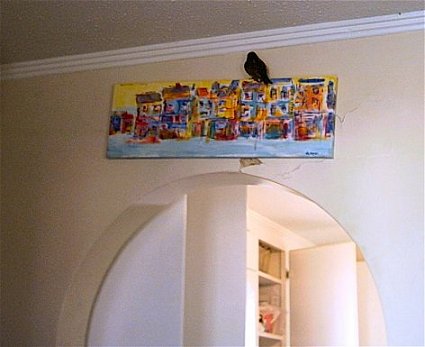 But the street wasn't very sturdy either, so the bird went back to the Tree: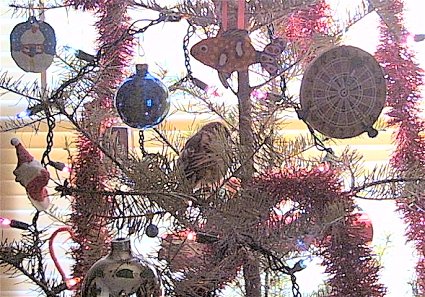 Using The Golden Compass before Holywood I then persuaded the bird to leave the Tree again: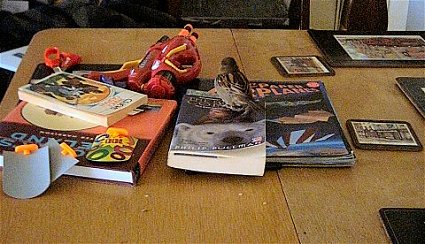 And from there it was easy to show the bird the direction north to freedom and the great outdoors: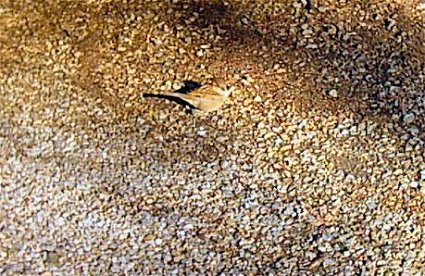 So then it was time to let the dog back in but she didn't believe me that the bird had left, and waited for another bird to come alive: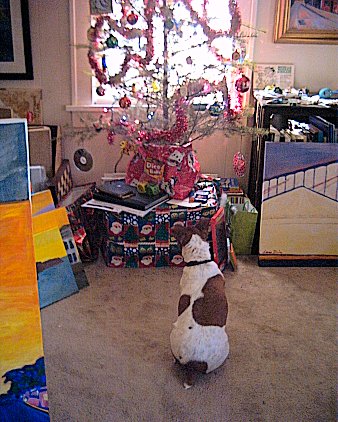 All day. The dog then waited all day. For another miracle: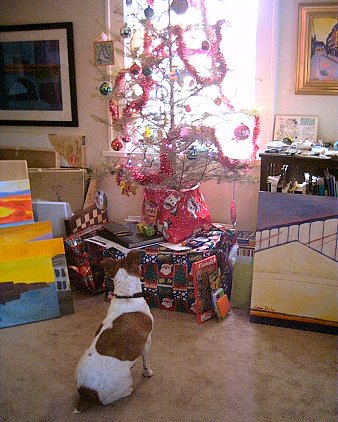 The astute among you will notice that the bird not only came to life but also changed from a Robin to a Sparrow.