By popular demand, here is a photo of The Dog.
Equally adept with either paw, The Dog is seen here warming up with a soccer ball before a full game of Gaelic Football with a classic O'Neill's GAA leather.
Considering the typical direction of our arguments it's fair to say I never have The Dog under voice control.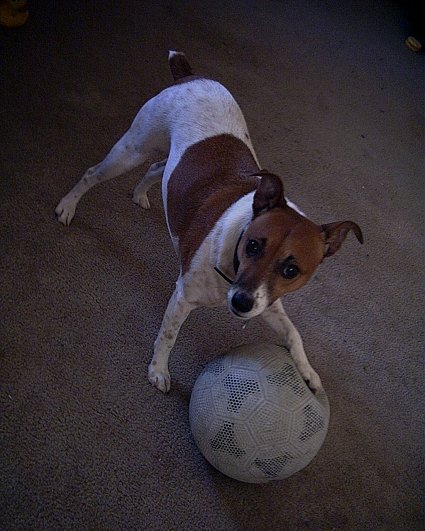 This is The Dog that is so Irish, albeit in America, that it poops perfect cylinders of green. And The Dog that on Paddy's Day I apply stilts and a grey Mohair to simulate an Irish Wolfhound.
See a Video of the Dog Dancing
Update: The Dog moves to Ireland
The Dog is very much its own dog and this month is 6 years old.
See More Canine Capers:
• The Good, The Bad, And The Dog
• Kansas City Dog Pickings
• Ireland, Pit Bulls, and the City of Kansas