So it's Halloween today.
This means it's a day for America to throw around more badly spelled examples of the Irish language as it acknowledges Ireland's role in giving the celebration to the US.
And it's also a day for Ireland to throw around more badly made decorations from China as it copies the celebration of the holiday in the US.
It wasn't always so. We didn't use to have pumpkins in Ireland. We had turnips. And carving one into a Jack O' Lantern took forever. In fact it was so difficult that millions of Irish people emigrated to North America in search of a vegetable much easier to carve.
As it turned out, pumpkins were so much easier to work with that somebody invented the television from one. And then, watching a documentary on Ireland's great turnip blight of neglect, Irish America decided they needed a holiday to celebrate the end of harvest. So they invented Halloween.
Eventually the television reached Ireland whereupon the Irish population watched these things called movies, many of which featured multiple versions of another American invention, the teenager. And for some reason, probably a practical one rather than a moral one, these teenagers were often the victims of casual murder while simultaneously being the victims of casual sex.
Despite the distraction of this great way to celebrate Halloween, the people watching in Ireland noticed the very cool looking decorations carved from pumpkins. So they dispatched a new wave of emigrants to North America to find out what these pumpkin face lights were called, and any other suggestions on how to celebrate better this day called Halloween.
I always liked that England didn't celebrate Halloween. Why should it? It had its own big night of awesome arson only days later. And I liked that we didn't celebrate Guy Fawkes' demise because we had our own night for bonfires only days earlier. And I liked that America had its usual mongrel of a holiday even if it didn't know who the parents were.
But as much as this march to globalised nothingness saddens me, I don't believe that it will all equalise in the end. For all that I have been told of things in Ireland now being the same as things in America, the decorations I saw this morning on the front of Irish houses, just like the lights we now see at Christmas in Ireland, aren't even 5% of what I saw in America.
Yes I know that Ireland is doing more every year, but so is America - and America is very good at more.
Naturally I'm not above all this nonsense myself, so here's a sample of my living room in America last year. These silhouettes were made mostly from a single cut with a razor blade. Stupidly the black paper I used was very light, almost a tissue quality so if you're ever doing these things yourself I recommend construction paper: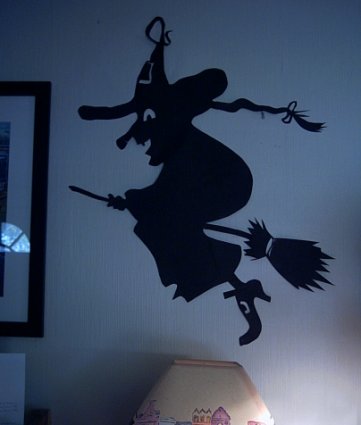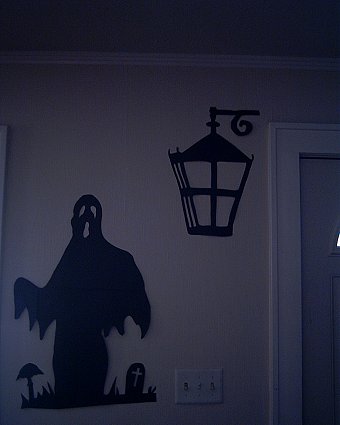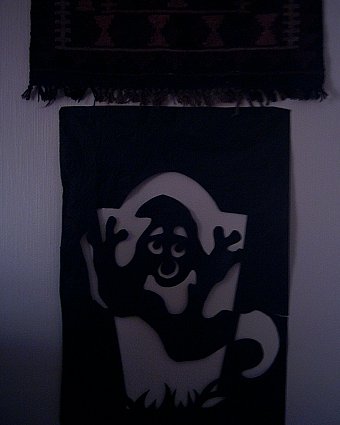 And for the outside world, to scare away those pesky kids, these were some paintings I did for my front door: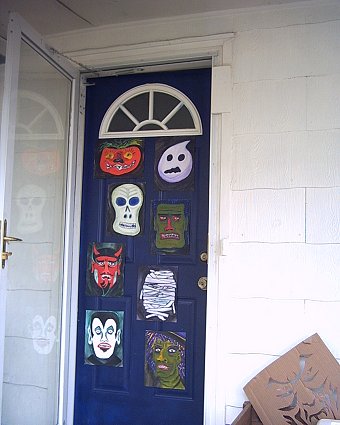 This year I'm in Ireland so I'm not playing. But then this year I don't have a living room. Or a front door.
Be safe, wherever and however you happen to be celebrating dead vegetables.
More on Halloween:
• Hallowe'em in Ireland: A Quiz
• How Do You Pronounce Samhain?
• Do You Have Halloween in Ireland?