Pier D in Dublin Airport opened yesterday. Officially. The Taoiseach's the one that done it.
But Pier D has really been open for 2 weeks. I went out through Pier D last week.
It's kind of like Pier A in that it mirrors it, only higher - with better views. And it's further to walk.
The best thing about the Skywalk isn't the much vaunted travelators, which are quite far apart and desperately slow, it's the view of the old original Dublin airport terminal. For some reason I didn't photograph it for you but you can look at the architect's representation.
At the gates there is a large speckled mural on glass, if that's what you call it, of the Irish language writer Máirtín Ó Cadhain: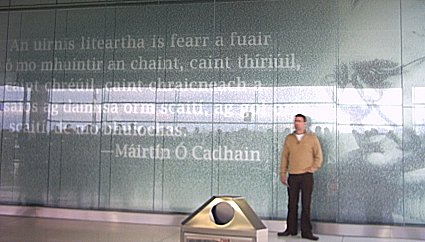 And if you go really close you can see that the speckledness is created by the writings of Ó Cadhain: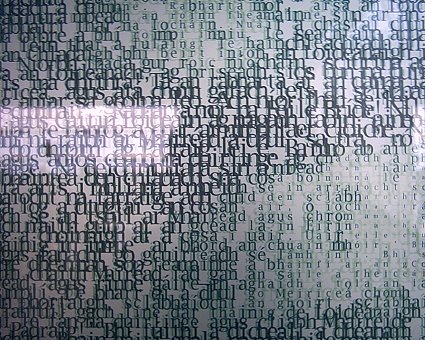 If I remember rightly that's his chin you're looking at.
Overall, with very few people walking the Skywalk and it being, not unsurprisingly, so much nicer and more spacious than either the alternative short-haul collection of gates known as Pier A or the prefabricated temporary Pier D, it felt a bit science-fictionish. And it's a long time since Dublin Airport felt even up-to-date.
UPDATE: Paul O'Kane of Dublin Airport Authority sent me the following additional information:
The Irish Writers' Gallery is a key feature of Pier D and the 12 writers being celebrated include three Nobel Prize winners George Bernard Shaw, Samuel Beckett and W. B. Yeats, as well as literary giants such as James Joyce, Sean O'Casey and Oscar Wilde. The murals will be located at each boarding gate on the first floor of the new pier.

To create each mural an image of the writer was printed onto a tough plastic material known as Poly-Vinyl Butyral (PVB) and this was then bonded with two sheets of glass to produce a laminated glass portrait of the author and a short quotation from their work. But as you spotted, the clever feature is that each of the author images was created by using excerpts from the writer's own work.

The murals were designed by Skidmore Owings & Merrill (SOM), which is the DAA's architect for Pier D. SOM developed a computer software programme that scanned each author image and then analysed how to replicate it by reproducing the text in different colours and sizes.

Viewed from a distance, passengers will merely see the face of Oscar Wilde or of James Joyce. But the closer you get to the images, the more pixellated they become, and eventually the actual text that forms the larger image will emerge.

Samuel Beckett's image was created using five pages of dialogue from his most famous work "Waiting for Godot", while a passage from "A Portrait of the Artist As a Young Man" was morphed into the face of James Joyce. The passages of text that were used to create the author images touch on themes such as travel, nationality, and hospitality and reflect both urban and rural Ireland.
Meanwhile, when they finally get rid of the prefabs, this view from Pier D will be nicer: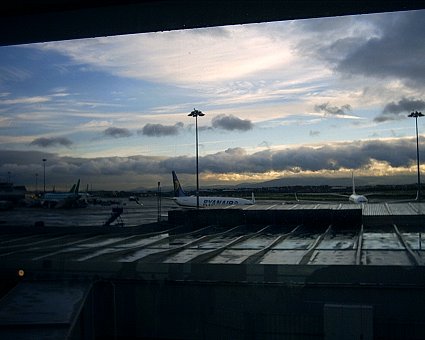 Dirty Dublin:
• O'Connell Street & Dr Quirkey's
• Irish Graffiti Now And Then. And Now.
• Grand Canal Photos - Dublin
• Dog Doo Doo Don't
• Dublin walls