So Dublin Airport's Pier D offically opened yesterday.
And Like the Taoiseach I was at the airport myself. But I was at the prefab cattle market called Pier A.
Because there was thousands of people squeezed into a prefabricated corridor, with those going against the crowds having to fight their way to the gates, it occurred to me that I'd probably recognise somebody. And then Avril Doyle walked past. Shouldn't a Fine Gael Member of the European Parliament be flying out of Pier D now that Bertie's opened it, I asked nobody?
But before that welcome home, here's the view from air of Dublin I got on the way in. First you see Howth Head with the Wicklow mountains across Dublin Bay: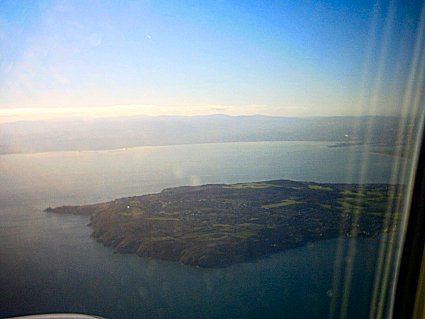 And then as the Bull Island comes into view closer to town you can also see Howth Harbour. Look, there's Phil Lynott's grave, and Larry Mullen's boat: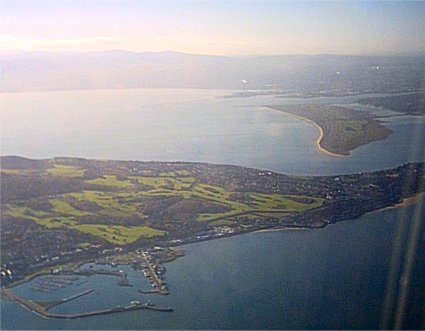 And then as we move along to the isthmus of Sutton, the Bull Island and Clontarf come closer into view as does the mouth of the Liffey and the Pigeon House, or Pidgeon House as it used to be, though it's really Poolbeg Power Station now. That would be the red and white striped (hoops?) chimney stacks out in the middle of the bay - well, out by the South Wall. And in the foreground you can see the tip of Portmarnock: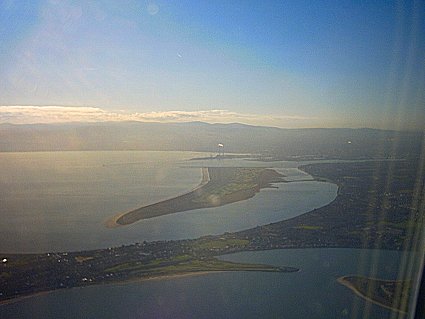 And then I ran out of space on the camera.
More Photos of Ireland:
• At The Races - Clonmel
• Driving In County Derry
• Downpatrick
• Donegal & Sligo
• West Cork
• Dublin's Grand Canal
• Dublin Walls
• At The Races: Downpatrick