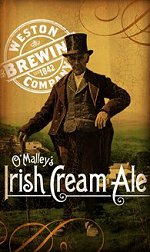 O'Malley's Irish Cream Ale is now available on the Kansas side of the Kansas City Metro Area.
More locations are being continually added, and the Weston Brewing company are updating their website with all locations.
What is O'Malley's Irish Cream Ale like? I must get around to publishing that section on Irish beer reviews, but for now here's the official line:
a smooth, sweet and creamy brew with a light floral hop nose, malty middle and smooth finish. Poured from a pub faucet with nitrogen and CO2 the ale cascades in the Irish tradition and settles quickly to form the perfect head.
See Also:
• The Marketing of Irish Beer in America
• O'Malley's Emerald Lager & Irish Cream Ale
• Boulevard Brewery Unfiltered Brown Ale