The Great Sugar Loaf
12ins x 16ins
Canvas
SOLD
215 EUR / 290USD
Wicklow is awash with Sugar Loaves. But it's usually the Great Sugar Loaf that we're talking about when we say "Sugar Loaf". I've cycled past it many times, and of course you can see it from much of Dublin.
This painting is from the memory of my cycles past, where through its familiarty it told me my long day of cycling in the mountains was coming to an end.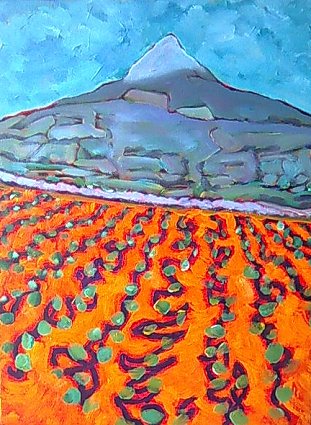 This painting continues around the sides, which are 0.75″ wide.
The Great Sugar Loaf is now SOLD.
This painting was first exhibited at the Intonations Art Exhibition in Dublin's 2009 Rathmines Festival.
More paintings from the Rathmines Festival are listed here. Meanwhile see other paintings of Ireland and elsewhere available for sale.