Poulnabrone
8ins x 10ins
Canvas
230 USD (170 EUR)
Shipping 15 USD (10 EUR)
SOLD
I've painted the portal tomb at Poulnabrone in the Burren of County Clare a couple of times before. It's a fantastically stark shape, and in the unique rockscape of the Burren has an almost monochrome existence.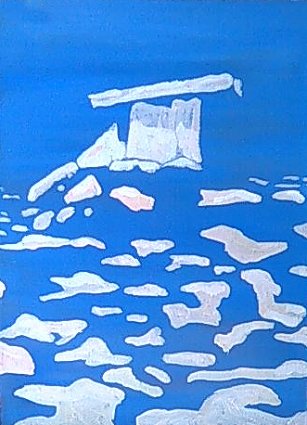 This painting continues around the sides, which are 0.75″ wide.
If you're known to me you could always pay me direct and save me the processing fees. I'd like that.
Poulnabrone is now SOLD.
This painting was first exhibited at the Intonations Art Exhibition in Dublin's 2009 Rathmines Festival.
More paintings from the Rathmines Festival are currently being posted and listed here. Meanwhile see other paintings of Ireland and elsewhere available for sale. All prices will be increasing substantially in a week.
Earlier Paintings of Poulnabrone:
• Burren Dolmen
• Poulnabrone At Dusk