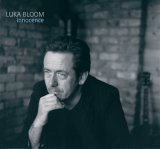 Luka Bloom's latest CD, Innocence, is currently featured by Jefito, music writer and former musician.
Luka Bloom, who plays the Irish Festival here in Kansas City this September, is an unknown to Jefito - which is rather apt as it gives the CD review its own innocence.
Essentially the main point in the review is:

Bloom has been practicing the art of addition through subtraction for years now, and if he hasn't perfected it here, he's definitely come very, very close. Really, when a guy can hold your unwavering attention for close to an hour using little more than his voice and a guitar, there's an awful lot he's doing right
There's an interesting version of City of Chicago which you can compare with his big brother Christy Moore's version, or even with Luka Bloom's other version as gaeilge (in Irish) on the Concern CD, Ceol '06. Overall the CD is full of Luka's wonderful guitar work, and the soulful Kildare voice that sounds like he's singing it alone in the same room with you - just for you. And maybe he is.
Speaking of Christy, I read a review last year of a sort of homecoming gig he performed in Kildare with Declan Synott and Donal Lunny, which Luka Bloom opened for. It was in the hotel (The Keadeen) my sister got married in over 20 years ago round about the last time Christy played there. Luka played a lot of the songs that night that you can now hear on Innocence.
Jefito provides links to two songs, First Light of Spring and Doing the Best I Can, which will only be live for about another 24 hours - but if you're going to do more than just sample them, you really should buy Luka Bloom's Innocence - you know you won't be disappointed.