Issue 11 of Kansas City's Present Magazine, features Irish entertainer and coffee man, Eddie Delahunt.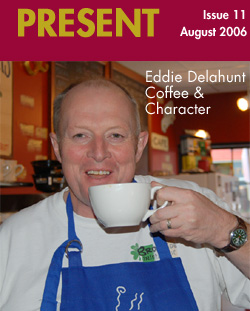 Present Magazine is a monthly online local publication which launched last year. You can read each edition online in pdf format. The article on Eddie begins on page 13 on the August 2006 edition, and covers life before the 1989 move from Ireland to Kansas City, through to the success of his new coffee bar and entertainment venue in the heart of KC's antique center, Cafe &.
Tomorrow night, Friday August 4, you can see Eddie Delahunt perform at Mike Kelly's Westsider on Westport Road, across the road from Sheehan's Irish Imports there, as you head towards State Line Road.
See Also:
• Where the Delahunt is Eddie?
• The Fuchsia Band at Eddie Delahunt's Cafe &
• Kansas City Treat