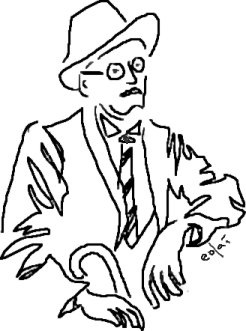 Stately, plump Buck Mulligan came from the stairhead, bearing a bowl of lather on which a mirror and a razor lay crossed.
Go HERE for Bloomsday 2007 in KC
NOTE: The following pertains to the 2006 event, though much of it applies to any year:
TODAY at Bloomsday Books. Because it's the day. And tomorrow for that matter. Because.
Beer, food, Irish music, and a big book
UPDATE: Bloomsday reviewed by KC Star
And it's only one of many Irish events
See also:
• Fundraiser for Children's TLC
• Nelly Don: A Stitch in Time
• Irish Ride to Weston, Missouri