Original Irish Paintings
An artist from Ireland, I've been painting pictures of Ireland and beyond for over 20 years. I sell paintings all over the world.
PRINTS: For the 1st time, prints are now available of some of my Irish paintings.
Sales/Specials etc: Check out the latest Irish Paintings on sale.
April '08: Paintings were on sale for 2 weeks (with FREE shipping worldwide).
In Progress: New Paintings of Ireland.
Murals: Dublin in Dublin :: Moscow in Kildare
Minis: paintings of animals from a series I may re-launch the online shop with.

I will be completely redesigning this page so you can look at thumbnails and at a glance see what is sold or for sale, and landscape, cityscape, abstract, or whatever.
The Paintings

SOLD paintings are listed first; scroll down for paintings now in storage that were also on special offer.
Earlier Offers - All SOLD
Offer 1 Galway Street & Doolin
Offer 2 Irish Street II
Offer 3 Eagle, Perched
Offer 4 The Rock of Cashel
Offer 5 Ballina
Offer 6 Green Fields
Offer 7 The Gasometer
Offer 8 Enniskrone Strand
Offer 10 Irish Street I
Offer 11 Of Clare
Offer 12 The Plaza
Offer 15 Kinsale II
Offer 16 Kinsale III
Offer 18 Fishpond in France
Offer 18 Hokusai (after Himself)
Offer 19 Moone Cross Base
Offer 20 Burren Tower
Offer 21 Devil Sun I
Offer 21 Devil Sun II
Offer 24 The Cliffs of Moher IV
Offer 28 Purple Girl
Offer 29 Blue Mountains, Green Grass
Offer 23 Conscientious Objector
Offer 26 Kenmare River
Offers Withdrawn


As you dear Irish KC reader are special, certain paintings were offered to you at special rates from time to time. Most of these sold at the second time of offering. What's left unsold is unlikely to become available at reduced prices again.
Offer 31 Pearse's Cottage SOLD
Offer 27 Polka Dot Plant II $99
Offer 25 Killakee View SOLD
Offer 22 Galway SOLD
Offer 21 38′000 Feet SOLD
Offer 18 Ten non-Irish Paintings for $99 each. (2 SOLD)
Offer 17 Gallarus Stone SOLD
Offer 14 Newgrange Kerbstone SOLD
Offer 13 Benbulben SOLD
Offer 9 Donegal Standing Stone I SOLD

I'm also happy to take commissions but not at anything like the prices I sell off paintings here on special offer.
While you're there, here's Dublin's Four Courts to look at: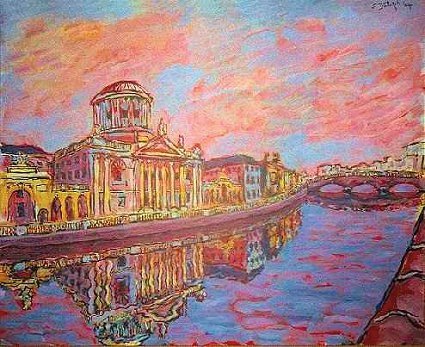 This is titled Four Courts, No Trees, is 16″ x 20″ and is NOT available for sale as it was sold at an Irish festival in 2003. Prior to that it had hung in Moscow and Dublin.

If you fancy looking at some more paintings, not available for purchase, I'll add them here as I find the time:
• Killarney, County Kerry
• Nephin
• Kansas City at Night
• Kinsale, County Cork
• Caherdaniel Fort
• Beehive Hut
• Bandon, County Cork
• The Quay
• Bantry, County Cork
• 7 Buildings, 4 Stories
• Wexford Town
• Sleeping Cat
• The Central Bank
• Inter-City
• The Golden Horn
• The Cabin
• Chinese Teapot
• Cave Canem
• Grattan Bridge, Two Domes

Here are the Art Offers in the order they were made available - they get added to regularly:
Art Offer 1 Galway Street SOLD & Doolin SOLD
Art Offer 2 Irish Street II SOLD
Art Offer 3 Eagle, Perched SOLD
Art Offer 4 The Rock of Cashel SOLD
Art Offer 5 Ballina SOLD
Art Offer 6 Green Fields SOLD
Art Offer 7 The Gasometer SOLD
Art Offer 8 Enniskrone Strand SOLD
Art Offer 9 Donegal Standing Stone I SOLD
Art Offer 10 Irish Street I SOLD
Art Offer 11 Of Clare SOLD
Art Offer 12 The Plaza SOLD
Art Offer 13 Benbulben SOLD
Art Offer 14 Newgrange Kerbstone SOLD
Art Offer 15 Kinsale II SOLD
Art Offer 16 Kinsale III SOLD
Art Offer 17 Gallarus Stone SOLD
Art Offer 18 Ten non-Irish Paintings (6 SOLD)
Art Offer 19 Moone Cross Base SOLD
Art Offer 20 Burren Tower SOLD
Art Offer 21 Three Abstract Paintings (All SOLD)
Art Offer 22 Galway SOLD
Art Offer 23 Conscientious Objector SOLD
Art Offer 24 The Cliffs of Moher IV SOLD
Art Offer 25 Killakee View SOLD
Art Offer 26 Kenmare River SOLD
Art Offer 27 Polka Dot Plant II
Art Offer 28 Purple Girl SOLD
Art Offer 29 Blue Mountains, Green Grass SOLD
Art Offer 30 Pearse's Cottage SOLD
Art Offer 31 Elevator, Sunday

See non-Irish Paintings by me that were on special offer
---