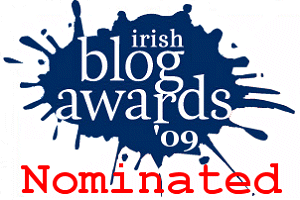 While I'm dragging my feet splintering off a new personal blog from IrishKC, under cover of something happening in America, I can let you know that IrishKC has been nominated in the Irish Blog Awards 2009 in the Best Arts & Culture Blog category (sponsored by Poetry Ireland).
I wouldn't see it going any further (there's a longlist and a shortlist before a winner is chosen) - because there's way too much quality on way too many other blogs, but given there's an estimated 4,000 Irish blogs in existence it's nice to be nominated.
My American Hell was also nominated - in the Best Humour Blog category. And that makes me laugh. (Ha ha! See what I did there!). This category is sponsored by Beecher Networks.
For me the best thing about these awards has always been the exposure it gives to blogs you're unfamiliar with. And as the lists are only going to get shorter now is the best time to go exploring - check out the 2009 Irish Blog Awards Nominations. Even for the people who disagree with lists, it's a perfect opportunity to give attention to sites you think more deserving.
Update: The nominees for Best Blog Post have now been announced.
The logo above and a smaller version are available here