Although I have a habit of painting skies a roaring yellow, pink, or green, and of posting photos with skies of blue, in reality the skies here in Ireland are frequently grey.
Like today.
And like in this photo I took at 4pm a week ago on my way to town. I haven't enhanced it in the slightest - no darkening or no messing with the contrast has been indulged in.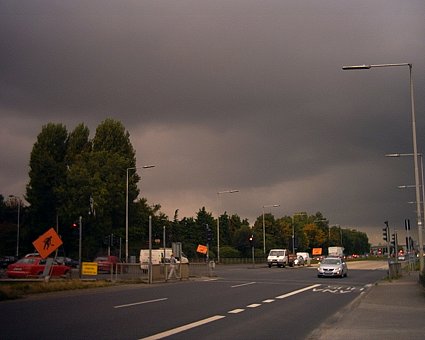 This was the colour of the sky as I walked out the door without coat or umbrella, calculating I could make it to the bus stop before any rain might fall. And I was right, as the rain didn't begin falling until I was off the bus and walking down Pearse Street.
Anyway I don't only paint skies the colours of the rainbow, sometimes I paint Irish skies a darker colour like in this painting of Pearse's Cottage in Rosmuc (the same Pearse of Pearse Street coincidentally; he made a bit of an impression), and in this painting of a standing stone in Donegal.
I mention this because I was asked by a gallery in Kansas City to change the colour of the sky in the Pearse's Cottage painting with the explanation that people in the American Midwest aren't used to grey skies and would find it depressing. Refusing to repaint I replied that this sky was in Ireland and that sometimes the sky just isn't blue.
So the painting never did go into the gallery.
I like grey skies, but because you may not I'll post some more photos of Ireland under blue skies in a little while.