Eddie Delahunt's Cafe & coffee shop is in the antique district that runs along 45th Street from State Line Road.
Located at on the corner of Bell & 45th St, at 4448 Bell St, Delahunt's Café & (read "Café And"), has a plenty of space for outdoor gigs and a large room upstairs for indoor gigs.
The trend set by the many succesful gigs in the 2 years at the coffeshop's original location across 45th Street is planned to continue.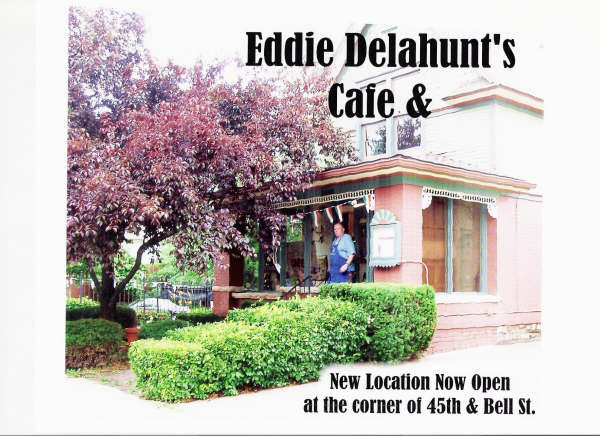 Cafe & Location: 4448 Bell St
Cafe & Phone: (816) 753 3322
Hours:
The Cafe & is open 7am to 5pm, Monday through Saturday with late hours on certain Thursdays and Saturdays when live music gigs are announced.
Cafe & Serves: Espressos and Brewed Coffees & Teas, Sandwiches, Bagels, Pastries, & Muffins.
Cafe & LIVE English Soccer: Saturday Mornings starting @ 7:00am.
Read a review of a gig by The Fuchsia Band at Cafe & in August 2007.
Read a review of the 1st anniversary party of Eddie Delahunt's Cafe.
Music performances at the Café in its first year, 2006, included those by The Fushsia Band from Cork, Kansas City's Barclay Martin, Liam's Fancy from Kentucky, and Eddie himself (with friends).
2007 has already had a fantastic start for the Café &, with a gig by Irish legend, Cork's Jimmy Crowley, the first live broadcast from the café of Celtic Crossings, and the live webcast of the benefit to honour Jennifer Ireland.
A venue for Delahunt where he himself can perform as well as bring talented Irish musicians to, had long been talked of as an ideal for Kansas City's Irish, and this is great news. In its first year Café & has already established traditions in the Irish community that will last for years, most notably the Irish New Year's party in a tent, and breakfast on Thanksgiving morning.
Eddie and his brother Colm being big soccer heads, Café & is also the venue for many Irish and English soccer fans to watch their favourite live games. 2006 was of course a World Cup year with much fun to be had at the café during the games, and other internationals and major games are also shown periodically.
Speaking to me only hours after he signed the papers for the café, Eddie said he'll continue his regular Irish music performances around the KC metro area, and that slowly the Café & would develop gradually with much love.
Cafe & opened on June 12, 2006 and celebrated its Grand Opening on June 15, 2006
See also
• Eddie Delahunt's Cafe &: And It's Open
• And What?
• Eddie Delahunt on Irish KC
• Café & starts serving sandwiches