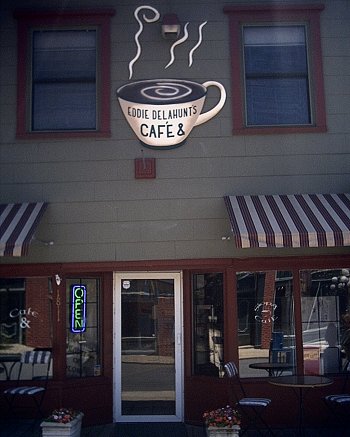 TODAY, all day, the Grand Opening of Eddie Delahunt's Cafe & at 45th & State Line in Kansas City, takes place.
Eddie said he'll be staying open late. How late? Well, these Irish events don't come with end-times. Eddie will be playing music, as he did yesterday under the Clock in Overland Park, and last night in O'Dowd's little Dublin, and will tomorrow in Mike Kelly's Westsider, and Saturday for Bloomsday, and Saturday night for Children's TLC, and Sunday at O'Dowd's Little Dublin again. You're probably tired just reading that.
But the Cafe & is Eddie's own place, so drop by and wish Eddie & Betsy the very best with this exciting new addition to the Irish scene in Kansas City. It might well be in Missouri, but you can spit on it from Kansas. Indeed here's a photo I took from Kansas.
Cafe & Phone: (816) 753 3322
See Also:
• And it's open
• Eddie Delahunt's Cafe &
• And What?
• Eddie Delahunt on Irish KC