For the 2nd year in a row I bought my Christmas Tree early yesterday. Early for Christmas that is, not half-7 in the morning.
NOTE for all XtraCycle enthusiasts: Hello! The photo below was taken in December 2005. The FreeRad is quite simply the best thing I ever bought. Since the photo was taken I have moved with my XtraCycled-bike from America back to Ireland. Other cycling posts are below the photo.
It was raining all day yesterday, so I don't have a photograph, but luckily for you I took a photo last year of exactly how I did it without a car then. And as it happens this year's tree is identical to last year's - those things are so common they must grow on trees.
The man was very helpful as he walked out of the shop into the car park carrying my tree while I carried my helmet.
-Now which car is yours?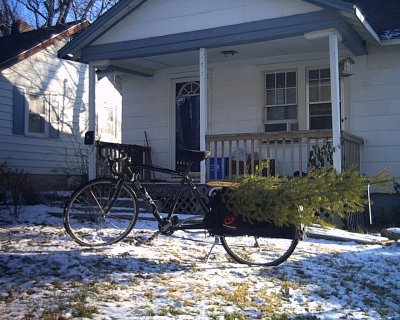 See my Bicyclistic blog for more about Me, my xtracycle, and cycling
See Related Cycling Posts:
• Solo Cycle Tour Across America
• Memories of Cycling in Yugoslavia
• A Bicycle Arrives in Dublin
• Cottage Chronicles: Living in Rural Ireland with a Dog and a Bicycle
• An Irish Odyssey in Kansas City
• 20 Canvases on a Bicycle
• I Used to Watch Cycling
• USA & Ireland Little Differences: Merry Christmas