Barclay Martin plays Eddie Delahunt's Cafe & this Saturday, July 22, at 7pm.
Barclay is a very talented acoustic folk singer/songwriter with a funky jazz twist. You can listen to samples of his music on the ubiquitous MySpace, or download for free MP3s from his own website of his EP The Age Of Information. Martin's debut CD Promise on a String, is available for purchase from Village Records
And, as I was telling Eddie Delahunt at last night's gig in O'Dowd's Irish pub on the Plaza, the selection of songs featured on Mike Savage's Art website, is my favourite collection.
This is the first gig at Cafe & since the launch of gigs at this coolest of venues, when Eddie & friends played there two weeks back in an excellent gig I must tell you about sometime.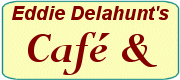 Cafe & is located at 1811 W 45th St at State Line and opens at 7am. Most days it closes at 4pm, but Thursdays and Saturdays for gigs to be announced, Cafe & is open late. Phone: (816) 753-3322
See Also:
• What Does the Cafe & Look Like?
• What Does the Cafe & Outside Deck Look Like?
• What Does it Look Like from Kansas?