So I'm sitting on the small ivy-covered wall, listening to live music and getting my bottom bitten, and I'm thinking, god my head hurts.
Don't get me wrong, I'm not in principle against getting my bottom bitten, but this was a midweek night.
I blamed the dog. Not for the biting, but for making me miss the first three Irish tunes. And a full pot of tea.
Whenever I take my dog for a walk, as I did yesterday evening, it always gets ugly at the turn. Dog dog knows that moment means the walk changes from an infinite distance to a finite one and so turns all argumentative.
So last night at the turn the dog brought up the vagaries of the Single Transferable Vote system of Proportional Representation, knowing full well it would take me ages to make arguments of any sense as to what the new coalition government in Ireland actually represents.
So not alone was the tea well drawn by the time the walk was over, but I was too distracted to flask the pot and bring it with me as I sped like an eagle, an eagle on a bicycle that is, to Cafe & and the celebration of its first birthday.
It's a good sound to hear live Irish music as you cycle along State Line Road reaching 45th Street. And as I pulled up there were a gansey-load of people dancing, the Cafe & Dancers, showing why a new regular social Irish dancing event would work in Kansas City. It's something to do with fun.
I also noticed everybody dancing was barefoot, which is known in Irish dancing communities as soft-shoe.
As the music and the clapping and toe-tapping along continued, I counted 75 balloons watching the performance:

If you're interested in humans I counted over 60.
And then Eddie Delahunt, Gabe Reyes and Brett Gibson, took a break. But we the watching crowds didn't, because Jessica Kroh then wowed everybody with her own compositions on the piano:

If you've been to Delahunt's Cafe & you've already met Jessica. She's served you coffee, a slushy, or a pastry. And you didn't know how talented she was.
Sometimes Jessica told us what her tunes were called. Sometimes she didn't. Jessica just likes to play, and it showed. The only time people got up during Kroh's performance was to purchase her CD. They all sold.
You can hear some of Jessica Kroh on her MySpace. Current tunes up there are A Bike Ride in Paris, The Old is Gone, The French Satellite, and Freedom from Me. And while you're there you can contact Jessica and ask her about her CD - which I think is called A Culmination of Me.
Eddie, Brett, and Gabe then came on for a final set, with songs by the Pecker Dunne (Sullivan's John), Eric Bogle (And the Band Played Waltzing Matilda) - always perfect at dusk - and a rousing version of Irish Ways and Irish Laws: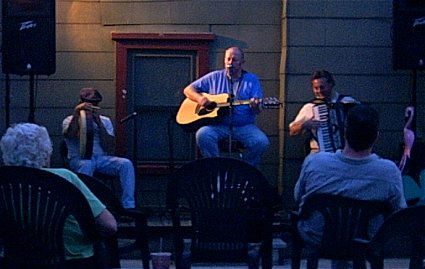 Actually if you want to see how the crowd was enjoying Eddie, Gabe, and Brett, at dusk, have a look at the full photo from which I chose that detail.
And then the sun was down, and Mitra gave us a song. I think it was Iris Dement's Our Town, but at this stage I was suffering cold turkey from not having any tea for over two hours (yes, so nice was the singing that I forgot I was actually at a cafe and could in fact buy some tea).
From the back I watched heads all gently swaying and bobbing as Mitra's voice lulled the crowd: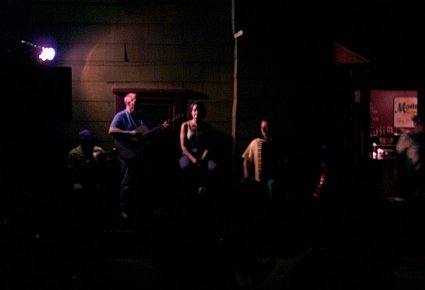 Luckily for me, people with beer and big hearts were near by. That did wonders for my head, though nothing at all for my bottom.
Somewhere before it all ended, we were treated to some tunes by Brett Gibson, and the dubious treat of some Egyptian music. Finally it did all end though, and it did so with the whole place Riding on a Donkey.
And that's it folks. One whole year of Cafe &. It's been a great year. Eddie and Betsy have worked very hard at a wonderful spot that has truly become a focal point for activities Irish, and deserve our congratulations for so doing.
But that's just another day in the Irish life of Kansas City. Today is the eve of the Big Saturday, the day of two huge events for the Irish in town - both of which Eddie performs at.
There is no institution in Kansas City more deserving or suited to host an Irish festival this June than Browne's Irish Market & Deli. And there is no institution in Kansas City more deserving or suited to host an Irish party on June 16 any year, than Bloomsday Books.
So Kansas City, June 16, 2007 gives you two great events. I believe they complement each other and with both being all-day affairs, you might well even manage to attend both. If just one is your cup of tea, then enjoy it while you can.
Last night at Cafe & when a tireless John McClain of Browne's straight from set-up of the Anniversary party turned up at the end to wish a Happy Birthday to a fellow Irish business in town, I couldn't help but wonder wouldn't it be great if Browne's Irish Street Fair was an annual event rather than a once-off event to celebrate the 120th anniversary?
You never know in life. Maybe there'll be two events again on the same day for Kansas City. Or maybe there'll be none.
But hey, that's tomorrow. Today you have Bob Reeder in Kyle's Tap Room, a great pub up north in Gladstone, Missouri - and possibly where I've had the best Guinness in town.
Further north you have Jonathan Ramsey back in western Missouri as he plays at O'Malley's unique Irish pub. And in Midtown Mr Delahunt plays his regular gig at Mike Kelly's Westsider some time near 6pm.
Meanwhile at the Tivoli, the hit of the Sundance Film Festival, an Irish musical film called Once, opens. When I was at Cafe & during the week - for a cup of tea of all things - the music from the movie was playing in the background. I think you might like it.
You have yourself a great weekend, ya hear? We'll talk soon.
See Also:
• Eddie Delahunt's CD Original Sing Reviewed
• A Night in O'Dowd's Irish Pub with Eddie Delahunt
• Most Listened to CDs in 2006