It's Eddie Delahunt Day. Again. The only Irish man who has two birthdays a year, this last year for the Irish musician has been quite a year.
A year ago today Dubliner Eddie had just released his CD, the singalong live thing, Alive at O'Dowd's, and was about to release another. That new CD, which he debuted at the festival in September, was the powerhouse of original Delahunt songs called Original Sing.
And 2006 has showed no let up for the man, with the opening of the latest live Irish music venue in Kansas City, Eddie's Cafe & at State Line and 45th Street.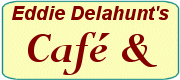 And where the Delahunt is Eddie on his birthday? The Cliffs of Dooneen? At Lanigan's Ball? Enjoying the craic in the Isle of Man? At the oul Irish Fest? No, he's doing an honest day's work at Delahunt's Cafe &
& Happy Birthday Eddie!
See Also:
• What Does Delahunt's Cafe & Look Like?
• Can I see the Cafe & from State Line Road?
• What's an Eddie Delahunt Gig Like?