But where does the trap door lead?
AFTERWRATH: 24 hours later and the fallout from the game will be on Ireland's main current affairs programme tonight on RTE. It was the headline feature on the main evening news. It will also be on Britain's main current affairs programme on the BBC. In Ireland hundreds of thousands have signed petitions and joined online campaigns. In France multiple surveys are reporting 80%+ of people favour a replay. The FAI have lodged an official request for a replay, and FIFA have acknowledged receipt of it. The FAI are also following the route of trying to embarass the French football association into agreeing to a replay. Ireland's Taoiseach has become involved and statements by the French government have also followed. It is now, a diplomatic incident.
After Extra Time Ireland go out. After a magnificent performance by Ireland they were robbed by a blatant double handball goal by Thierry Henry. A nation is sick.
Full-time France 0 - Ireland 1 With the score level on aggregate over the 2 games we now start extra time (being 2 periods of 15 mins). Ireland deserved to win and despite being a bit sloppy through tiredness are still playing better than France. If there are no goals scored then we go to penalties. This is probably the best performance by an Irish team I've ever seen.
Half-Time: Ireland score in Paris! In a wonderful performance Ireland have completely outplayed France in Paris scoring a fabulous goal in the process to lead at half time and cancel out France's away goal in Dublin. 45 minutes to go - can Ireland do it?
UPDATE: Nervous nation time as Ireland is on the verge of going out of the World Cup before it's even got into it. Part 1 in Dublin saw Ireland outplay France for most of the 1st half largely through enthusiasm and aggression, only to predictably tire in the 2nd half when coincidentally France remembered they could play football because they were, after all, France.
Dominating the 2nd half our gallic friends demonstrated their vast superiority yet somehow only managed to score 1 goal and even that required a deflection to get past Given and squeeze in off the post.
So now Part 2. Reports of from 15,000 to 25,000 Irish people are making their way to the stadium this evening in Paris (contrasted with 2,000 French in Croke Park) but unless they are all allowed to play it doesn't look good. Ireland will play the same way as in the 1st leg because Trapattoni is stubborn, so should again tire even if they play great. To win Ireland need to score and hope France don't. Or penalities even?
No reason why Ireland can't get lucky, but similarly why can't France get luckier than the 1st game and score 3 or 4? For as long as France don't score, the palms of my hands will sweat. Looking for a hero? Hunt. McGeady. Doyle.
I was at Lansdowne Road in 1981 when Ireland beat France 3-2 in a World Cup qualifier. The following year France were unlucky to lose to West Germany in a classic World Cup semi-final in Spain while Ireland sat watching at home.
Those of you who actually care, as opposed to those of you who say you do, will already know all this. /End Update]
The 1st of the 2-legged play-off between Ireland and France, for participation in the 2010 World Cup in South Africa, takes place tonight at Croke Park in Dublin (2pm Kansas City time).
This is one of 4 play-off fixtures in Europe between the best 8 teams who finished 2nd in their respective World Cup qualifying groups out of a total of 9 groups - the teams that finished 1st having qualified automatically for South Africa (Italy won the group that Ireland were in, and Serbia topped France's group)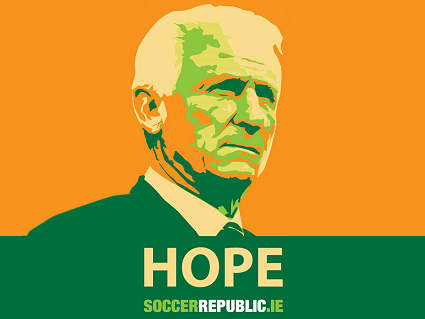 Both legs are available for viewing live in the US on Setanta Premium. The 2nd leg takes place in Paris on Wednesday (Nov 18, 2009).
More on Soccer:
• Meeting Diego Maradona in Ireland
• Watching Soccer in America
• Irish Lose: O-Dear-O-Dear-O-Dear