Here it is then. The final photo of Kennedy's Bar.
Once was Kennedy's.
3 days after the burning of Kennedy's, and Waldo's 75th St is still closed. And so is the pub.
But no more is there even a burnt out facade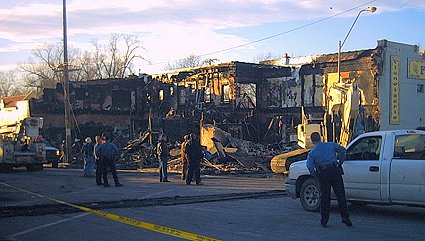 Last year I drank in Kennedy's more than any other pub in Kansas City, other than O'Dowd's on the Plaza. But I don't want to make out that it was something it wasn't.
In the 12 years I've been living and visiting Kansas City, the worst pint of Guinness I ever had, by a country mile, was in Kennedy's 10 years ago. You never forget a bad pint.
And the worst service I've ever received in KC was also in Kennedy's. 10 years ago. 9 years ago. 8 years ago. 7, 6, and 5 years ago. You get the idea. It has been consistently the worst, every year.
Don't get me wrong; I'm not that fussy about service. You don't have to smile, or wipe my table or my chin. And I, for my part promise not to go and have a nice day. But I do want to be actually served. That's all I mean by service.
It's strange to be standing alone at a bar with money proferred, not to be met with the barman's eyes. Ever. And stranger again when he resists your seductive words of charm attempting to order alcohol and tip him for his effort.
Sometimes I would go back to my table and company without any beers, having given up after 25 minutes at the sparsely populated bar. Even with changing barmen through the years Kennedy's always did this to me. And Kennedy's alone.
So why keep going? Being ignored saved me money. And I like rejection. It's the only time I've met a pub that played hard to get. Plus things were improving. 2006 was the first year I've got through without walking out unserved at some stage.
See Also:
• Photos Kennedy's on Fire
• Photo of Kennedy's after the Fire
• History of a pub, an Irish pub