The Kelihans
I spent most of the Kansas City Irish Festival at Berkley Park in the large vendor tent. With my feet planted in the mud. Watching the rain not stop and knowing the damage it had done to our festival was hard to take.
And then the Kelihans came into the tent.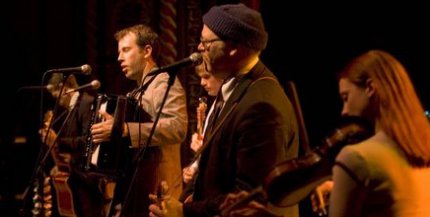 The guys played for ages - an acoustic set obviously - at both ends of the tent, so every rain-sodden vendor and volunteer got to enjoy them. It was utterly selfless and wonderfully enthusiastic.
Since then I've seen the Kelihans at a few venues around Kansas City. They verge into melodic Pogues territory with sea-shanties and can go loud or soft, full-on Celtic Rock or an acoustic set.
The Kelihans are:
• Jack Boyd - accordion,guitar,vocals
• Dana Catlett - fiddle,vocals
• John Cutler - mandolin, vocals
• Bill Guilfoyle - drums,vocals
• Kyle Laval - guitar,vocals
• Brian Lynn - bass, vocals
• Chris Teasley - banjo,flute,whistle,trumpet,vocals
UPDATE Sep/2006: According to The Kelihans' MySpace account, The Gaf is the location for regular gigs by the KC Celtic Rockers:

what should be an ongoing "last Thursday of the month" engagement. An accoustic evening with The Kelihans in an informal "session" performance. Join us for some fun. The food is great and the taps were set up by GUINNESS
NOTE: Check the Events Calendar for the latest dates, and call the pub.
The Gaf is located in Waldo, at 7122 Wornall, and the gigs are FREE.
Video
Video of The Kelihans performing at the 2008 KC Scottish Festival:

• Photos from The Record Bar opening for Enter The Haggis
• The Kelihans on MySpace
• Official website
See a list of Celtic & Irish music bands in the Kansas City area
---