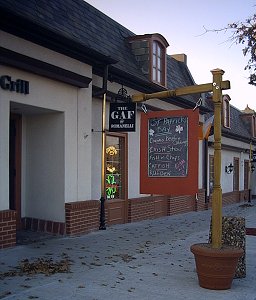 You've got to admire the confidence of everybody's favourite new Irish Pub in Kansas City. No tents, no banners, just this chalkboard outside, and a little note on the door. It's St Patrick's Day, and we have a few specials on.
The Gaf at Romanelli - on Wornell Road by Gregory - directly across from the Burger King, opens its doors at 10:00 am.
Beef Stew, Corned Beef & Cabbage (that will bring them in their droves), Reuben, and their famous signature Catfish are all on the menu for the day. And they've got bagpipes and Guinness - but then, it's a pub!

See also: Irish Pub The Gaf Gets A Sign