Speaking of Horslips and Dearg Doom, the track does of course come from the seminal Celtic Rock concept album The Táin.
The story of The Táin itself, or Táin Bó Cuailgne to give it its full name, is your typical Irish story of love, cows, magic, Ulster, Connacht, kings, queens, and single combat at fords.
Here's a photo of a young me looking closely at the Táin Mosaic Mural thing on Setanta Place in Dublin.
If you've ever been to the Kilkenny Centre on Nassau Street - and you probably have if you've ever been an American tourist in Dublin - then you should recognise it.
Spoiler Alert: Try not to look too far to the right of the mural or you'll see how the story ends.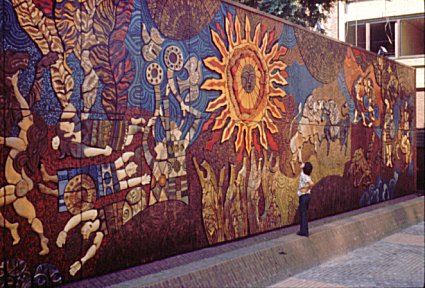 Buy Táin Tings From Amazon (Support me in other words):
• The Táin by Thomas Kinsella
• The Táin by Horslips
• The Táin: The Great Celtic Epic by Liam Mac Uistin
• The Tain by The Decemberists
See Also:
• Pegli: A Painting of Italy by me
• Genoa: A Painting of Italy by me