UPDATE: Oh look there it is. I'll do up an announcement with explanatory defensive notes in a few minutes, but for now I have some Paintings for Sale.
It's 2am Irish Time and I'm in my studio.
If you're a fan of numbers I can tell you it's 4 degrees in here (Celsius = 39 F). If you're not a fan of numbers I can tell you anything.
I'm painting until 6am, then I'm going to photograph whatever is complete and code the pages to display those paintings.
All going well I'm guessing I'll have something to shout about around lunchtime in Ireland (1pm = 7am KC Time).
If you know me you'll know things rarely go well. But even if things aren't going to plan I promise I will down brushes at 6 and not pick them up again until I've posted the sale.
Further updates will be, as ever, on Twitter
UPDATE (Fri 10:45am Irish Time): That was a long night. Cold, but fruitful. There are about 70 pieces going into the sale. I say about because I haven't decided yet about a couple of older pieces.
However, my camera is playing up. It's bending images. I can scan the minis and smaller paintings (and probably will) but for most paintings I need a camera. So I'm off to buy one.
And that's the end of Black Friday I guess. Cyber Monday it will be so. Sorry. Below is one of only 2 usable photos I managed to get:
Elevator Island
18×24 inches
canvas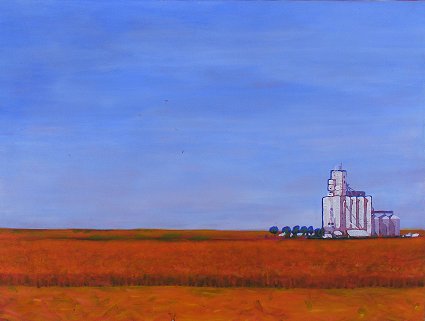 Rather than trip myself up with another detailed plan, I'll just point again towards Twitter where the ongoing updates should give a sense of the timing of the sale.