See HERE for the 2009 Snake Saturday
North Kansas City's Annual Snake Saturday Parade takes place on Saturday, March 10, 2007 from 11:00am to about 1:00pm.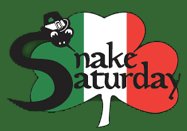 The parade starts at 14th and Swift, heads north to Armour Road, then east to Howell, disbanding past 18th Avenue and Howell.
Many people's favourite parade in the metro area, Snake Saturday is always the Saturday before St Patrick's Day and has a reputation for high quality floats and treating charities well. There's big money in winning this parade folks. There will be approximately 115 units in the parade.
As their slogan says, "Be Happy, Be Irish!" which actually strikes me as a contradiction and therefore reason enough for a festival.
On the web: www.northlandfestivals.com
See the full list of events for St Patrick's Day in Kansas City
And See:
• Police change Law on Open Containers for NKC Parade
• Little Lads and Little Lassies
See Also Events in Other Areas:
• Mar 10: Lee's Summit Parade
• Mar 10: Brookside Parade
• Mar 11: Irishpalooza St Patrick's Parade in Martin City