James M Grainger is a British artist, who specialises in oil paintings of vicars and Morris Dancers in curious and surreal situations, some of them involving rhubarb.
What a great thing for an artist to be known for. Not for landscapes or portraits, nor for abstracts. But vicars and Morris Dancers. And aren't Morris Dancers curious and surreal enough without making their situations so?
-Hey George, let's dress in white, with knee breeches, and put colorful ribbons on our shoulders and bells on our legs and arms. We can wear wire frameworks around our waists, and decorate them to suggest horses. Oh yeah, and we can use burnt corks to blacken our faces. Then we can dance around with sticks, or swords!
And to top that all off with rhubarb? Genius.
I'm not a dessert man. Chocolate repulses me in the way that eating mud would, even mud with sugar and milk. And I've just spent almost a decade in a country which for some absurd reason eats desserts for breakfast. Presumably to differentiate the desserts that you eat for breakfast from the desserts that you eat for, well, dessert, sugar is added to everything that is already sweet. And to most things that aren't.
So America didn't convert me to desserts. For me, "Mom and Apple Pie" mostly referred to Mom buying a readymade pastry from a large supermarket chain, and filling it with apples and sugar. And cake was never just cake. It was cake with extra sugar, so that you're eating raw sugar with a cake-like texture. But it needs to look pretty so a fluorescent extra-sweetened gick is pasted on top. And it's all served with dollops of cream. Cream with sugar added.
But this is the end of March. It is the time for rhubarb to appear:

No, not Roobarb - rhubarb.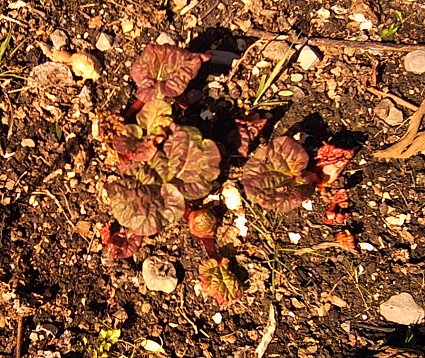 This is mine. It was given to me by my parents several decades ago. All I had to do then to look after it was, well, nothing. Our rhubarb is indestructable you see. Back then my parents had 7 rhubarb clumps. I would pick whatever stalks were ready each week, keep whatever the family needed, and sell the rest to the local supermarket which in truth wasn't very super.
108 stalks was the most I sold in a single go. In the supermarket they would sell out in minutes, because you couldn't get better rhubarb. The stuff that they ordinarily sold was skinny limp things more deserving of the word flog than stalk.
As you can see from the picture it won't be long now and I'll be getting to eat some rhubarb again. For dessert that is, not breakfast. I'm looking forward to rhubarb pie right now.
And who doesn't like rhubarb and custard?

(When Roobarb Didn't See The Sun Come)