Using your ordinary phone, with no catches, no strings, no credit cards, you can phone Ireland for free. Of course there are a few different ways these days with VoIP but here's one I used a few days ago to call my parents in Dublin, and it's as easy as things that are easy (see the screenshot).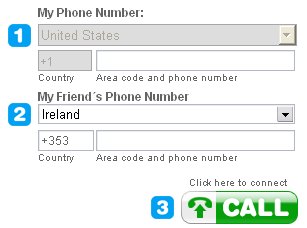 1. Position yourself near your phone.
2. On your computer go to Jajah
3. Type in the number you are calling from
4. Type in the number you are calling to
5. Click Call
Your phone will then ring and a voice will ask you to hold while you are connected. Then the phone you are calling will ring. You will get five minutes and then be cut off. It's a free trial.
You can use it way more than for five minutes if you register and the people you are calling register. Or you can use it directly from your mobile phone if you just set it up once for Jajah to handle your international calls.
How can Jajah (and others) do this? It's very cheap. In this day and age you shouldn't be paying more than 2 or 3 cents a minute to call Ireland anyway. And they are hoping you choose to buy other services, like texting, from them. Most of the calls I make to Ireland are free - though this phonecall wasn't.
If you do register, Jajah asks that you be reasonable in making free calls i.e. it says try to not make calls for more than one hour a day. And honestly if you and your friends have that much time to talk on the phone, you should think about living in the same country - or house even.
See Also:
• Last Week on Irish KC
• A Kansas City Phone Call to Ireland
• Heart & History of Irish Music at IMCC
• Irish Film Review: "What Means Motley?"