Today I was contacted from Ireland and offered an exhibition in Dublin.
That's better than a poke in the eye by somebody with a smelly finger.
It's a bit early for any more details right now, but when they surface I'll keep you posted - in case you happen to be visiting Dublin at the time, like.
And while we're talking about paintings, here's the first painting I ever sold in Kansas City. It's of Dublin, albeit a generic Dublin, and it was sold 8 years ago shortly after arriving in KC.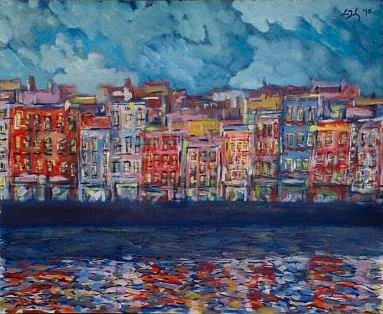 It's called The Quay.
Ah, but which quay? Crampton? Arran? Ushers Island?
If you want to browse at some other paintings of mine, for sale or already sold, there's a bunch listed on my Paintings of Ireland page.