Purple Girl
$99 to IrishKC readers
SOLD
12″ x 16″, Mixed Media
On paper, unframed
This is a painting of a woman, from the planet purple. Ah yes, the disposal of the family jewels continues.
As I leave behind Néidín, It's like purple splashed on green. My soul is strangely fed. Through the winding hills ahead. And she plays a melody. On wind and streams for me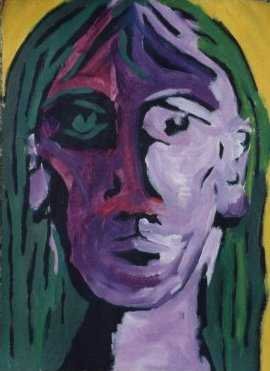 Shipping is $15 for within the US and $25 for the rest of the world.
Purchase Online using Visa or Mastercard
As I leave behind Néidín
In the hall where we have been
Rhododendrons in her hair
In the mountain scented air
See other paintings by me on special offer to Irish KC readers. Unlike this painting, many are of Ireland.