Polka Dot Plant II
16 x 20 ins, on paper
unframed
84 euro
S&H: 11 euro
SOLD
This painting came from a stage where I loved painting plants with great leaves. Great shapes. Great colours. Just great looking leaves.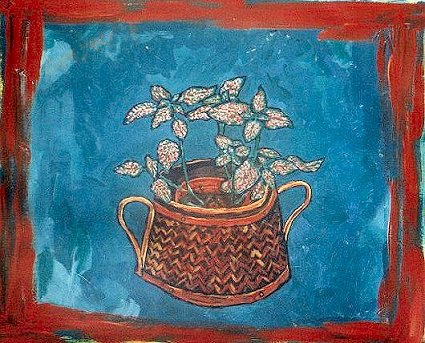 This painting is now SOLD.
Going to the plant shop was always interesting. I'd no idea what any plants were called, and just looked for plants I thought would be good to paint. Trying to ask for that was funny though.
-Can I help you?
-Em, maybe. I'm looking for something with big leaves.
-Big leaves? Oh. Well, how about this one?
-Nah. I'm looking for more interesting leaves.
The one thing you could never do was explain that you wanted to buy a plant because you were going to paint a picture of it - or you'd end up having plants, and flowers and people even, pushed on you.
I had a bad habit - and unintentional - of letting them die once I'd painted them. So I stopped painting them. It seemed only fair.
Should you be interested in buying this painting and you're known to me you could always pay me direct and save me the processing fees. I'd like that.
See more of my paintings currently for sale.