Wexford
12″ x 16″
SALE Price: $85 SOLD
Shipping is FREE - to anywhere in the world.
Wexford. I haven't been ages. To the town that is, not the county.
I think the last time was by steam train - not in the age of steam trains you understand, I'm not that old - it was one of those trips by the Railway Preservation Society.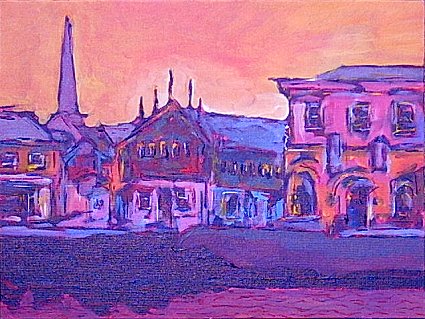 So the sale price of $85 is what you pay in total to purchase this painting and have it shipped to your door.
I had such a great time there - and traveling on the train to be honest - that I was persuaded to stop off in Bray for a pint on the way home. I have big problems with Bray (Killiney, Dalkey, etc.) so I must have been excessively happy to allow that.
Oh no, scratch all that - I was there last year, or the year before - on one of my last two trips home.
Anyway - I think this painting looks better in reality than here on the screen. I'm having real problems getting the colours to show close to what they are, especially all the very small brush marks.
Ah well, you get the gist.
See more paintings currently on sale
Black 47 fans - or even fans of the Kansas City Literary Festival - who visit Irish KC, might be interested to know that Larry Kirwan is from Wexford.